Taking a break from ed tech for some library space makeover fun — I finished making and hanging a reading tent I made for the library, something I've been working on for several weeks now.  I LOVE how it looks in a normally ignored corner, and I can't wait to show the students!!  😀
My inspiration was, of course, Pinterest.  All those hours in the Pinterest black hole sometimes comes to fruition!  Most of the designs I found used a hula hoop and rope lights, but I didn't feel like sewing on my temperamental sewing machine.  It eats fabric randomly and regularly, so that wasn't really a safe bet.  Instead I thought of embroidery hoops.
Materials needed for my tent design (modify as you like):
1 set of sheer curtains, as long as you can get ($10 on Amazon) – Mine are 84″ long
1 small safety pin (or more to attach decorations if you want)
1 large circular embroidery hoop or quilting hoop, as big as you can find – Mine is 15″ diameter ($12ish at a craft store)
1 small bottle of acrylic paint or stain (optional to paint the hoop if you want) – I used silver
1 or 2 rolls of ribbon, 3 yards each – I used 2 rolls of 3/8″ ribbon I found in the dollar bin at our local craft store.  One was for decorating, the other for attaching the tent to the ceiling.
Four (4) 9-foot rolls of star garland, 2 in silver and 2 in shiny multicolor ($3-4 each at craft store)
1 set of 100 clear string lights, optional ($10 at Party City)
1 or more 3M "stickies" and small clips to keep the end of the lights out of the way. (I had some at home, so I don't know how much they cost.)
1 electric timer, optional (like the kind used at Christmas to time when lights go on and off)
First, I took everything home and played around with it.  I painted the outside of the embroidery hoop silver because we have an outer space theme this year.  (it took 3 coats, possibly because it doesn't come with a finish on it).
#1 – I used a safety pin attached to 1 of the ribbons to thread it through both curtains.  Looking back, I wish I'd done 1 ribbon through each curtain so it would hang more evenly.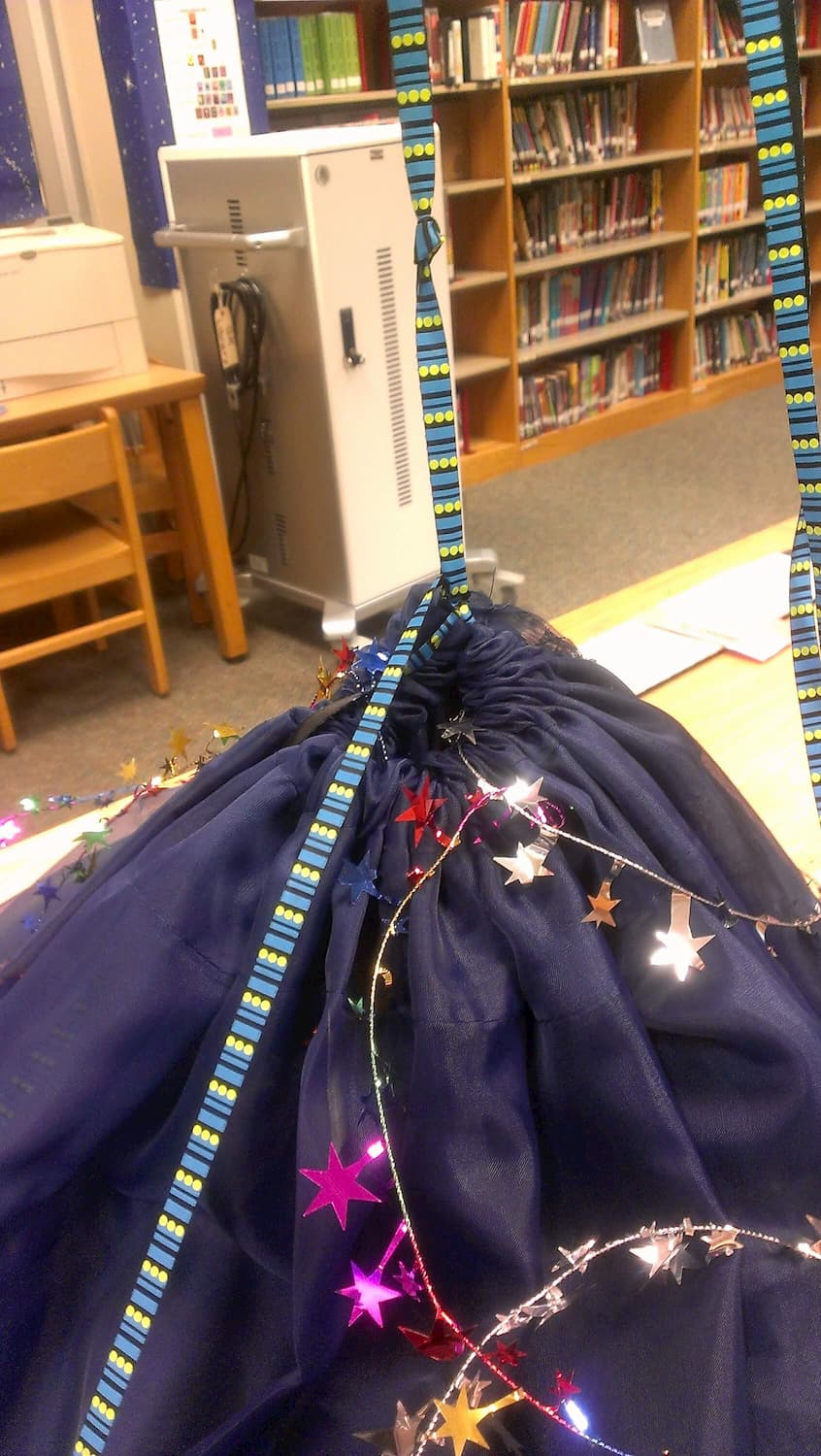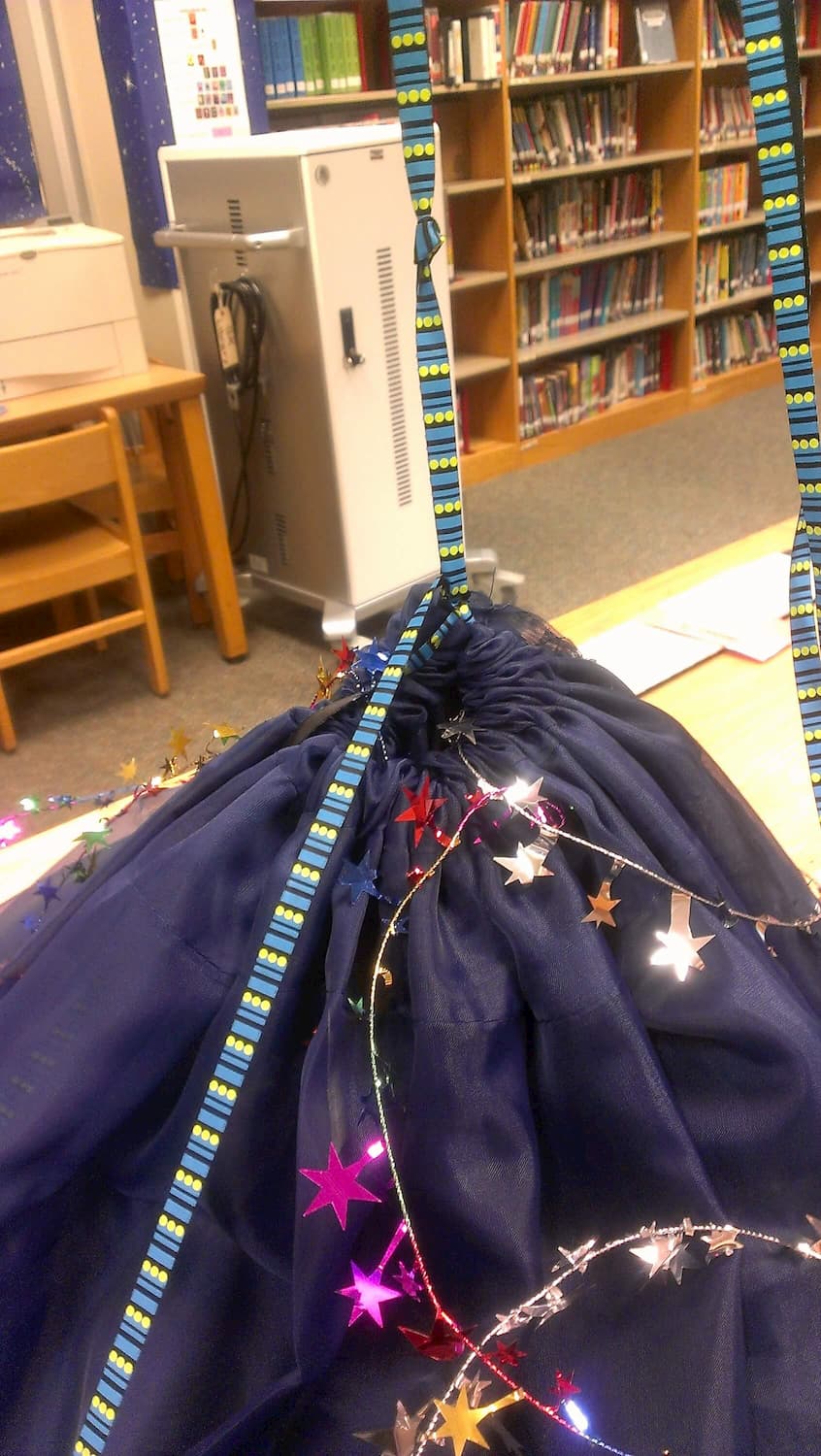 #6 – Tighten the whole embroidery hoop as tightly as you can with your fingers (no tools needed).  Pull two of the ribbons up to hang it.  I asked the band teacher to hold it up and adjusted the ribbons so the curtains hung down, but not to the floor.  Then, he was kind enough to stand on a chair and tie it around the steel frame of the drop ceiling.  He said they can hold the weight of the reading tent easily, so I'm not worried about it crashing down.
#7 – If you want to add lights, I just wrapped them around the top and let the ends hang down.  I kept the string lights tight enough that they tangled with each other to stay on top of the tent.  I used a small 3M hook on the wall to hold the end of the lights that wasn't plugged in.  For my own sanity and convenience, I'm buying a timer so I don't have to remember to turn the lights on and off every day.
I'm incredibly happy with the end result, and with a chair under it, I think it will be a cozy spot students will want to curl up and read in.