TL Blogging Challenge #14 –

Share a topic/idea from a lesson you teach.  What is one thing you did with students that you will (or will not) do again?  Why?
Okay, this isn't exactly a lesson; it's a between-two-units activity or program.  For several years now I've had a "treasure store" for students in kindergarten, 1st and 2nd grades.  Each cycle when students bring their library books back, they can earn up to 2 plastic coins.  Students earn 1 coin for bringing back 1 book, and 2 coins for bringing back 2 or more books. Click the image to download business card-sized library currency for your library!
Students collect their coins or tokens in snack-size plastic zipper-top bags with their names on them.  We use address labels to write their names and stick the labels to each bag.  The bags are stapled to a heavy-duty foam presentation board, the tri-fold kind used for science fairs.  It's a compact, collapsible system with one board per class, and it prevents any loss/theft.  Students are putting the coins in their bag almost as soon as they receive them.
After I finish one of the units I do in each grade, I open the "treasure store" for a whole class period.  One change I make for 2nd graders is there is only ONE treasure store early in the year.  After that, bringing books back to the library is an expected responsibility.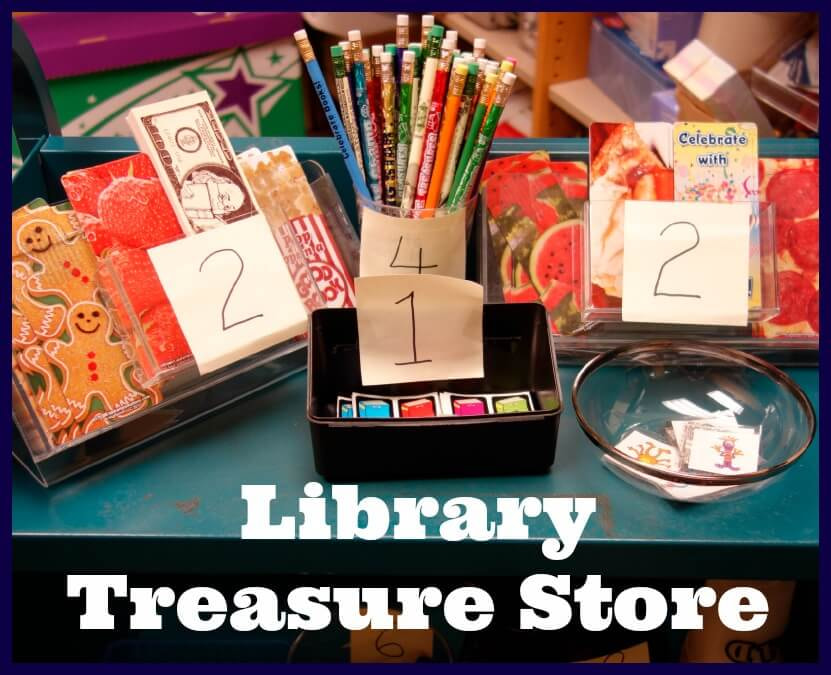 The Treasure Store consists of a book cart with several clear plastic containers full of small prizes, most of which I purchase from Demco or Oriental Trading Company: scratch-and-sniff bookmarks, color-changing or sparkly pencils, fun erasers, puzzles, jacks sets, poppers, etc.  I try not to give away "junk" and focus on things that are either useful for school, or actually DO something.  I also include some items that go along with our library theme.  For instance, next year's theme is camping and "Read S'more Books" so I'm getting small flashlights and binoculars to add to the treasure store.
Despite having concerns about too much extrinsic motivation, I still like this program.  I've found that the treasure store program both encourages students to be responsible and also helps students to get in the habit of bringing their books on library day.  It's a nice break between units, and it also gives students practice with math and introductory financial literacy.  Students can spend, save, or do some of both, however they must spend all coins by the end of the year.  If they can't "afford" something they want, they can try to get it at the next treasure store or choose something else.
Something I've changed over the years is what students do while others are shopping.  First, the treasure store was stationary and students came up to me to shop.  That was a disaster, and took WAY too long!  Now, students stay at their tables for the most part and I go to them with the treasure store on a book cart. 
While others are shopping, students exchange books independently, check out, count their coins, read eBooks on the tablets (with a partner), read other books from the author/genre we've been studying, and sometimes vote for their favorite book from the unit.  In 40 minutes, everyone in a class gets to check out books and shop, plus they get a little extra reading and math practice.
The blogging challenge is from Cybrarian Jen at Where Books and Technology Meet.  I'm going to try it out, but instead of daily posts, I'm going to try for 1-2 posts a week.