TL Blogging Challenge #15 –

What would be one (or two) items on your library wish list?  Why?  How might you get this item?
I would love to get new furniture for the library.  Actually, I would love a total library makeover with steps for seating, an outdoor garden area accessible by sliding glass doors, lots of nooks for reading, and different areas for study / centers / makerspace…but I live in the reality of limited space, no renovation budget, traditional architecture, and a mostly fixed schedule. 
What I have to work with are lots of traditional shelves (both along the outside walls and in the middle of the library), white concrete block walls, and large square tables that I'm always bumping into as I walk by.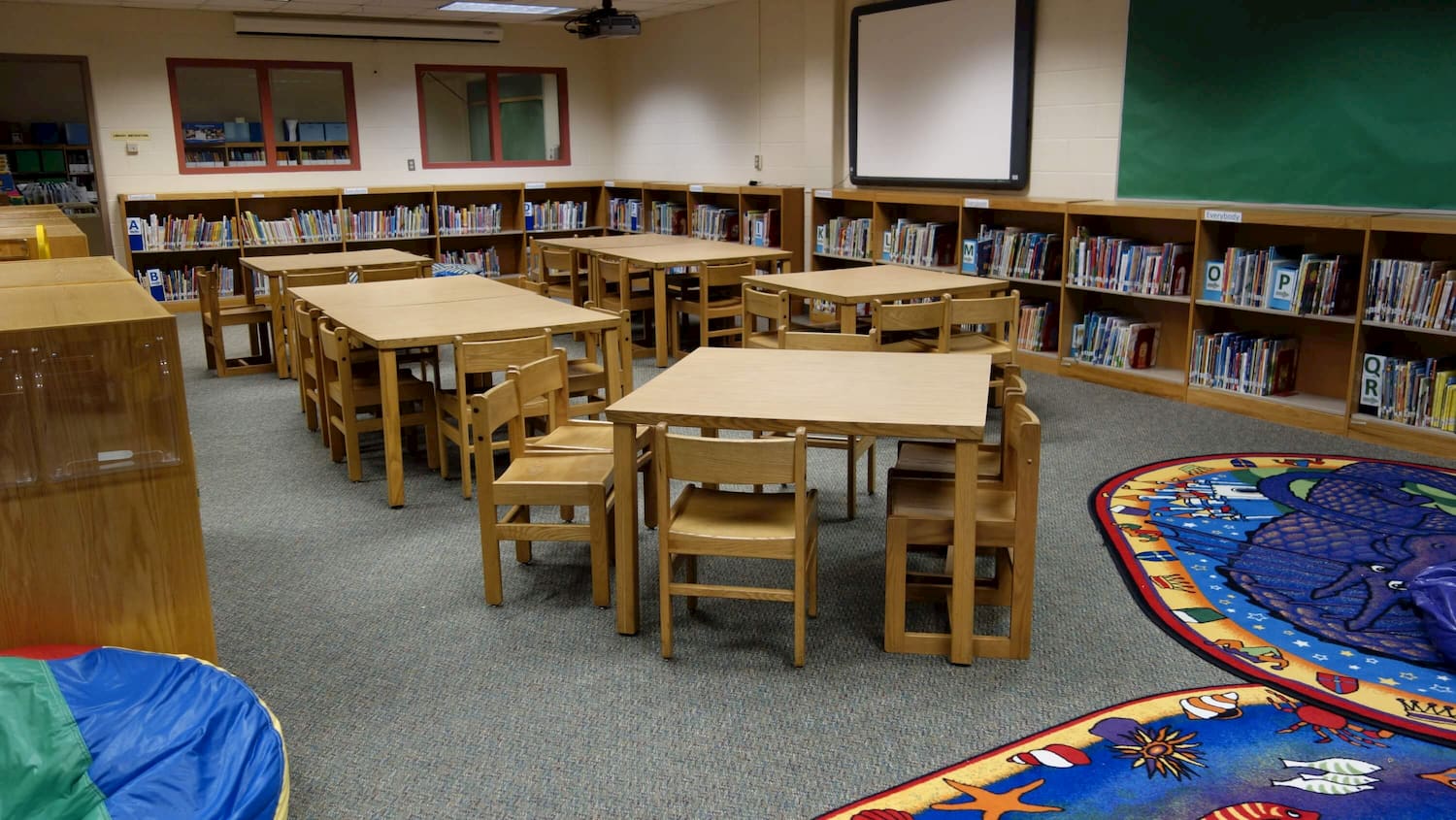 Our current furniture is only 15 years old, though, and it's still nice: high-quality, very heavy wooden tables and chairs.  There are no cushions on the seats; they are all hard wood.  While this does make them easy to clean, they are not very comfy or welcoming.  The tables are also hard to move.
For the past few years, I've tried to "makeover" other parts of the library to be more cozy.  I've added beanbag chairs, colorful carpets, floor pillows, and even a DIY reading tent that lights up (on a timer).  But still, the instruction happens in the hard, uncomfortable seats.  Even if I can't get new furniture, I'd love to upholster the existing chairs with vinyl wipe-off cushions.  I don't know a think about upholstering though, so that's a bigger project than I can commit brain power to at the moment.
One thing I can do that's more within my reach is to add wheels to the bottoms of the chairs and tables.  I haven't taken apart the table or chair legs, but I think a heavy-duty drill bit and some wheel casters should do it.  At least that would make the chairs and tables moveable and easier to rearrange if/when I can make more room for more flexible learning spaces.  Big ideas, small steps…
I love Diana Rendina's Pinterest board of ideas for library spaces, specifically for tech integration ideas.  If I could design the perfect 21st century library, I would love to work with the architect to make some of these ideas happen!
Until then, I'll start the new school year with some (kind of) realistic goals, a cordless drill, and a few calls to our district operations.
The blogging challenge is from Cybrarian Jen at Where Books and Technology Meet.  I'm going to try it out, but instead of daily posts, I'm going to try for 1-2 posts a week.
The photos in this blog post were taken by me, Collette J / Mrs. J in the Library.  They are licensed under a Creative Commons Attribution-Noncommercial-Share-alike 4.0 International License.