"What Worked Wednesday" is a blog post series about ideas that I have personally tried in my library and/or instruction.  Each post includes an idea that worked in my school library and how it makes my life less stressful, more organized, and/or more manageable.
Disclaimer: This post contains affiliate links, which means if you purchase an item after clicking the link, I will receive a small commission. See Disclosures & Disclaimers for more information.
I've just discovered Sugru®, and it is AWESOME! Sugru® is a moldable putty that sticks to almost anything and dries into a silicone-based rubber. It's tough, waterproof, and heat-tolerant. In other words, Sugru® makes things elementary kid-proof.
What I love most about it, however, is the philosophy of fixing and adapting anything to make it better, stronger, more personalized, or more useful. I've blogged before about how delicate some of the littleBits™ are, and how I've replaced several because of broken wires and loose parts. Well, I wish I had known about Sugru® when I bought my first set of littleBits™ back in 2013. A couple of hours and a $22 Sugru® multi-pack would have saved almost all the Bits I've replaced, and it would have paid for itself by now.
So today's idea that worked:
Mold Sugru® around the wire connections and fragile parts of littleBits™ to reinforce the connections and prevent damage.
Four mini-packs of Sugru®, color-mixed to approximately match the Bit colors, were enough to wrap around all the wire connections and make our littleBits™ MUCH stronger!
How this idea saves money: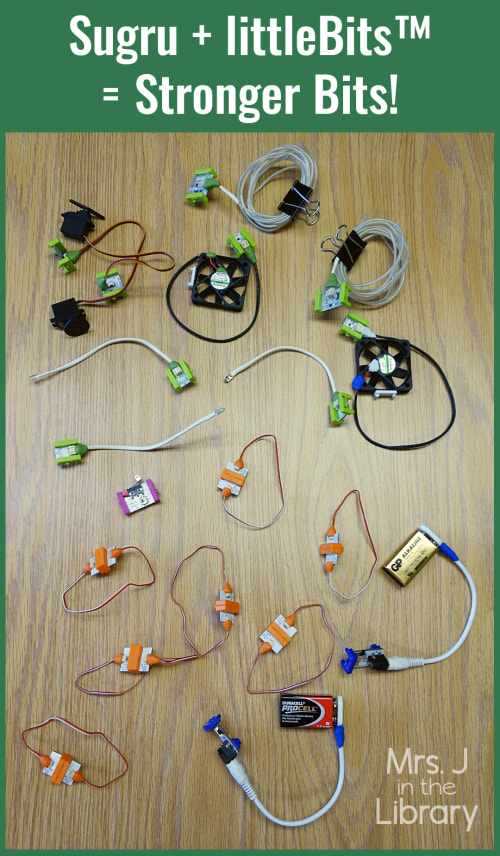 When combined with some beginner soldering, I fixed a littleBits™ fan, one of my proudest maker moments! That fix saved about me about $15. Additionally, I reinforced the connections on all of our wires, long LEDs, servo motors, light wires, a UV LED, a roller switch, another fan, and the last 2 original 9V battery cables. Sadly, I wasn't able to salvage any of the vibration motors, so I'll just need to buy new ones. When I do, though, you can bet that I'm going to encase the delicate wires and connections in Sugru®!
Overall, if you're going to use littleBits™ with elementary students, I HIGHLY recommend Sugru® reinforcement. You will thank yourself later!
Images by Collette J. at Mrs. J in the Library