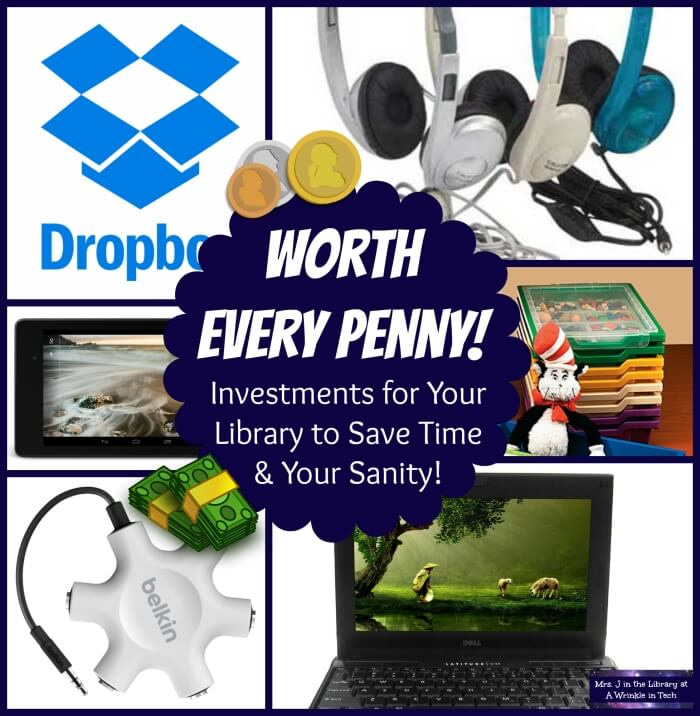 In the 8 years that I've worked at my current school library, I've made some very intentional purchases to make the library and my teaching practice more efficient and student-centered. It didn't happen all at once due to budget and time limits, but little by little, I've managed to build a collection of technology and management solutions that work together to make my life easier (and help me stay sane).
Disclaimer: This post contains affiliate links, which means if you click on one of the product links, I will receive a small commission. See Disclosures & Disclaimers for more information.
Though no single item is going to radically change a library (or school for that matter), the following list has some of the things that have profoundly improved our library because of how I've implemented their use:
1. Android tablets or iPads for in-library use –
I know iPads are the favorite in education, but they are also very expensive. I recommend buying a few Nexus 7's if you can still find them, or other small-screen Android tablets, and ditch the huge desktops for catalog searching. If you buy another small-screen tablet model, try one of the Google for Education models (except skip the Google "management license," which costs extra and isn't really necessary). Destiny Quest (now Discover) works just as well on Android as on Apple devices, and there are LOTS of great Android apps that my students and I use every day.
Headphone splitters are excellent for sharing the Android tablets so that 2 or more students can listen at once, though the volume needs to be turned up as more headphones are plugged in. This is great for interactive ebooks and flipped videos (see below). I like these headphones, and I use zip-ties to shorten their ridiculously long wires.
3. Mini laptops if your school doesn't have 1:1 devices –
I have a set of 30 Dell Latitude 2100 "netbooks" from a grant I wrote 6 years ago, but now that we have some tablets, we probably use about 10 of them each day. A real keyboard is helpful sometimes, as is the full web-browsing experience. For example, when writing reviews in the Destiny Quest app, one tap outside the review box deletes everything you've written so far. In a browser, you have to either click the X or save your review…so the physical keyboard is much less frustrating for students with limited keyboarding practice.
These were new last year, and I adore them! They make it SO much easier to stash my library centers out of sight when the library is needed for other uses (i.e. faculty meetings). They also come in handy when a teacher needs a pile of books, but not enough to lend out a bookcart.
5. BIG signage on magazine file boxes –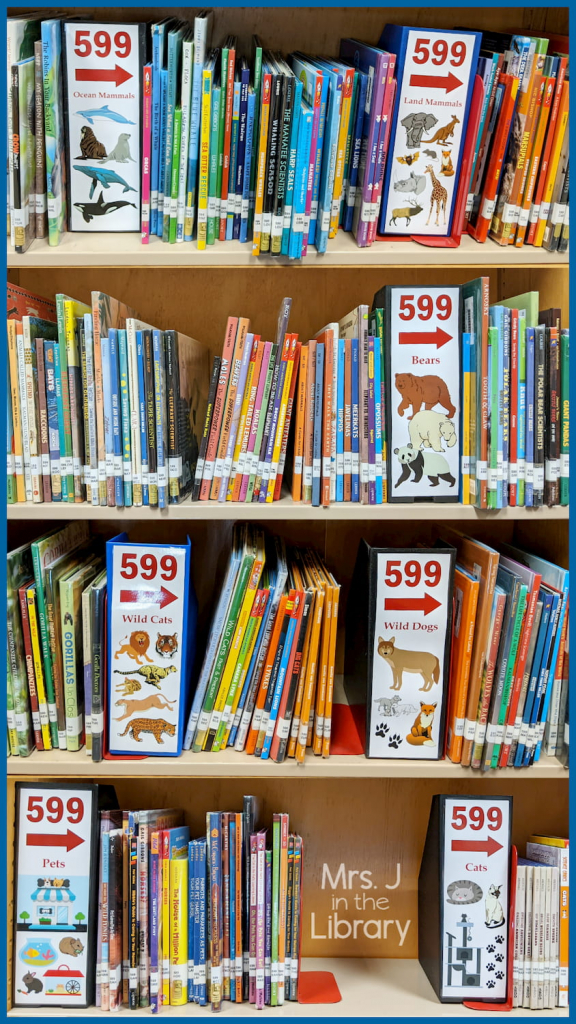 Large, more colorful, image-centric signage is important because we teach elementary students under the age of 12…some of whom are just learning their letters, or don't speak/read English, or forget/don't have/won't wear their glasses yet.
Though this item is free, implementation can involve a lot of time investment. To save time (and my voice), I filmed and edited a video for orientation, another one about how to find everybody/fiction books, and another about how to find nonfiction books. I uploaded those 3 videos to a "library use only" Dropbox account, and put the Dropbox app on all 12 library tablets. Voila! Instant tutorials for the units I teach every year, for new students, and for reviewing! For more information about how I use Dropbox, see my previous post on flipping your library instruction.
Do you have a can't-live-without-it piece of equipment, technology, or organizational tool? Share it with us and why you love it!