After having some voice strain and fatigue problems last year, I've been very blessed to get a voice amplification system, FrontRow's Juno System. Like most amplification systems, there's a microphone, transmitter, receiver, and speaker.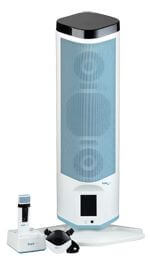 The brilliance of the Juno system is that the mic and transmitter are all on one pendant, while the speaker and receiver are enclosed in a single tower. Overall, it's been a downright joy to use, and I can't imagine going back to teaching unamplified! This review will go over some of the pros and cons of the Juno, and why I think it's a worthy investment, especially for large spaces like a school library.
Disclaimer: I did not make any money from this review, and I received no compensation for writing it. There are also no affiliate links in this post. See my Disclosures & Disclaimers for more information.
Pros
There is never any squealing feedback. I mean never. The suppression technology on this thing is SWEET, and if I walk too close I can actually hear it try to squeal, then abruptly stop.

Like most teachers, I'm constantly moving around my library, which is a challenge for most systems. I've used a cheaper system with terrible results, too. Imagine feedback squeals 2-3 times per lesson, and you'll understand how disruptive that is to the learning process.
I spend more time thinking about my instruction now that I don't have to worry about being interrupted by an ear-jarring squeal.

The microphone is a light, wireless pendant that hangs around my neck and doesn't interfere with my clothes or jewelry, even necklaces. I don't have to plan my wardrobe around it like I did with my previous clip-on belt transmitter/wired mic set.

Yes, it looks like I'm about to get "beamed up" to a Star Trek episode, but showing my geeky side is a hardly something I worry about.

There are very few wires to set up, which means no installation costs. The average tech-savvy teacher can figure out where the cords go, and they will all look familiar.
It simultaneously works to amplify computer sound, mp3 sound, and even FM transmitters. Though it requires a few more cords to set up when the system arrives, the directions and FAQ's are very clear.
Cons
It's pricey. VERY pricey. From all the acoustical research I read and the limited reviews that weren't directly promotional, I found that this is probably one of the most expensive systems on the market.

Mine cost about $750 for the tower, pendant, and mic charger, and that included a 50% "My First FrontRow" discount because no one else in my district had gotten a FrontRow product before.

The voice commands to raise or lower the volume could be more responsive and better attuned to a natural voice. Google Voice Search has me used to effective voice recognition, and it's frustrating when it doesn't work as smoothly as my smartphone does.

A firmware / software update might improve the voice command functions, but I haven't checked for an update yet.
Budgeting for it
It may not be easy to convince your district administrators that it's worth the investment, but if you have documented vocal strain, the Juno system is definitely worth a try.
Ask your parent -teacher or home-school organization for help,
Enter a giveaway or contest from FrontRow,
Ask about discounts, especially if no one else in your district has a Juno speaker,
Write a grant, or
Offer to use your supplies budget (if you're lucky enough to have one).
Without your voice, you can't teach effectively…so if you really feel it will help your voice, do whatever you can to get the funding.
I hope this review was helpful to anyone who is researching an amplification system in your school. If you'd like more information about how to take care of your voice, check out the University of Iowa's Voice Academy.