Like many of you, our district is facing longer school closures, which could possibly extend to the end of the school year. There is so much that's uncertain, and I'm sure I'm not the only one struggling with adjusting to working from home.
Many schools are requiring teacher-librarians or library assistants to keep working remotely, or to show that they are doing professional development from home. It can be daunting to think of ways to fill your time if you can't be physically in the library, but still need to "prove" that you're working.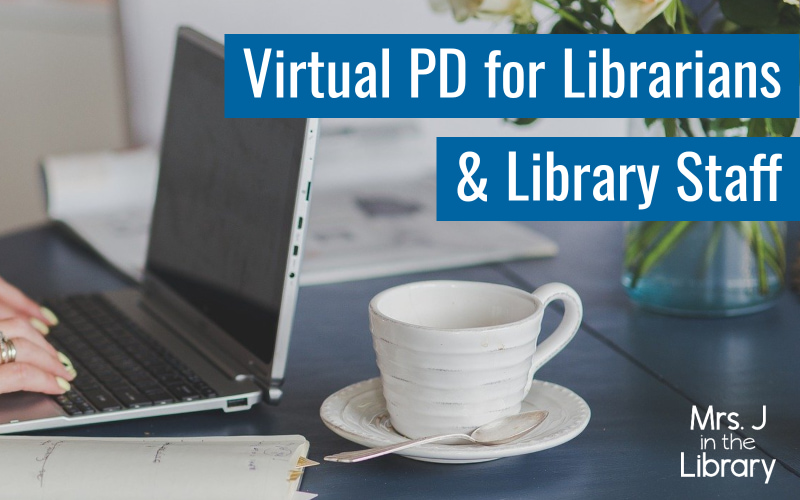 Disclaimer: This post contains affiliate links, which means if you purchase an item after clicking the link, I will receive a small commission. See Disclosures & Disclaimers for more information.
Here are 7 Work-from-Home Professional Development Activities for Library Workers:
Learn from Experts through Webinars
Many of these webinars offer completion certificates or even continuing education credits to prove you participated. Check with each website if that's something your administrator wants to see.
Read & Discuss a Professional Book
Google Classroom or other learning management systems are great for managing on online book club, but even a private Facebook group can work well.
Make sure to add your administrator to the group, GClassroom, or other discussion platform for both accountability and advocacy.
Cari White from Library Learners and I have been working on something extra special these past few months, and we're hosting an online book study during April & May as part of our FREE Open House preview of our new project, Librarians Teach.
During our Open House, you are invited to read Game Changer! Book Access for All Kids by the amazing Donalyn Miller and Colby Sharp, and discuss how we can use and apply what we learn.
The book study will run for about 6 weeks starting April 15th.
Our book discussions will be in a private Facebook group, and anyone can join. Plus, we are offering completion certificates for those who participate in the weekly book discussions!
Free to Focus by Michael Hyatt – I finished reading this a few weeks ago, and I've been amazed at the difference it has made as I've tried to make my life less about working all the time, and more about equal measures of meaningful work and family time. Free to Focus has practical advice and free downloads for practicing and using the advice Hyatt gives.
Deep Work by Cal Newport – I actually read this one before Free to Focus, but it is more abstract and focuses on higher education. For teachers, drawing parallels between Newport's work in academia and our own work is pretty easy, albeit not a perfect metaphor. For me, this book helped my brain set-up and prepare to implement the Free to Focus techniques.
Invent to Learn by Sylvia Libow Martinez and Gary Stager, 2nd edition – For anyone who is maker-interested, this is required reading.
The Complete Step-by-Step Guide to Designing & Teaching Online Courses by Joan Thormann and Isa Kaftal Zimmerman – Yes, it's over 8 years old which is ANCIENT in the tech world. But the strategies and practical tips in this book are invaluable, and easy to replicate with modern tools and learning management systems. If you are tasked with designing an online course from the ground up, this book is a goldmine!
Sharpen Your Tech Skills with Online Courses
If your district uses Google Suite for Education, or if you just like using Google tools, take the Google Certified Educator Level 1, Level 2, or Certified Trainer training.

Though the test to "earn" your certification isn't free, it's extremely affordable.
Ask your administrator if they will pay for a voucher so you can take it for free, but if they can't or won't, I recommend taking these courses through your personal Google account. Then it can travel with you to another district or job, which is especially important for younger or more mobile teacher-librarians.

When I want to do something in Google Classroom and can't figure out how, I go to one of 2 websites: Alice Keeler or Kasey Bell of Shake Up Learning. Check out both of them for online courses as well (though not usually free) to help you learn more about using Google tools in your library instruction.
I'm sure most librarians are aware that Common Sense Education is well-respected as a source of reviews for apps, games, and other media aimed at children in grades Pre-K through 12.
The Common Sense Educator recognition program is a customizable online course for educators to learn more about using technology tools carefully and thoughtfully. I especially like that they model the best practices of differentiating online teaching by offering choices to you (the student).
Learn by Listening with Podcasts
When I'm commuting to work full-time, I spend 6.5 hours driving every week. So I've learned to find interesting podcasts and Spotify playlists to mix in with radio listening as I drive.
Here are some of my favorite podcasts, which have HOURS of excellent professional and personal listening:
What I like most about this podcast is that Angela is a tireless voice of encouragement to teachers. She knows what it's like, and she advocates for self-care equally with excellent pedagogy and instructional practices.
It was Angela's podcast that first introduced me to the idea that I didn't have to work all day and all night to be a good teacher or a good librarian. I learned to change my teaching practice so that I can leave at the end of the school day and not feel guilty. THAT is why she's amazing!
Angela has also written several books that are on my never-ending To Read List, among them Fewer Things Better. I suspect it will be like Free to Focus for teachers.
Jennifer Gonzalez is amazing, and I love her practical approach to excellence in teaching. She's insightful and thought-provoking, and always gives me something to consider when I listen to an episode.
This podcast is awesome for keeping up with teaching trends and how to apply them in a REAL classroom. It's truly about putting superb teaching theory in practice with realistic expectations.
Fuse #8 n' Kate is the only "book podcast" I've kept up with, albeit not regularly. I really appreciate the outside perspective of Kate, who isn't in the children's literature/library world, and the conversations are awesome and reflective. This podcast also tells some of the little-known behind-the-scenes info about classic children's literature, so that's always interesting to me.
School Librarians United is completely new to me, but I like it so far, and it's nice to have a podcast that's dedicated to our niche within the library world.
You might not be able to get work-time "credit" for these two, but they have both helped me grow immensely as a teacher, parent, and general human being.
I highly recommend The Road Back to You book and podcast for Christians, though those of other faiths will likely find value in it as well. It focuses on the Enneagram personality types and interviews different people who are one of the 9 types. It's fascinating from a psychology standpoint, it has helped me build empathy for those I disagree with, and it has helped me to have more grace for myself.
The Focus on This podcast has helped me to apply some of the strategies in the Free to Focus book I mentioned above.

Each week's episode is about 1 particular strategy to help you feel less overwhelmed all the time…which includes me and a lot of teachers I know.
Each episode ends with by an interview with a "Full Focus Planner" user….which is one of the main purposes of this podcast: to heavily market the "Full Focus Planner," and its related products from Michael Hyatt.
Full disclosure: I'm trying out the "Full Focus Planner" and might do a review later for how teachers could use it…but the jury is still out on whether I like it or not.
Revise Your Most Unengaging Lesson or Unit
This is hard, right? Not only is it difficult to reflect objectively on a unit we've made and find it's not working anymore…but it's often impossible to find the time and mental space to do the actual revising. Now might be the perfect time to re-vamp your library curriculum, even if it's just one unit or lesson.
READ MORE: 10 Virtual Library Activities Students Can Do at Home
For example, I have always hated teaching website evaluation, and there just weren't that many resources that I thought would fit well with the rest of my curriculum or fit my student's needs. I could have spent 100-ish hours creating my own…or what I did instead was use Benjamin Kort's unit that I read about in SLJ's November issue. He very kindly posted the link on Twitter, and it deserves 5,000 glitter stars!
Here is the fake news / media literacy unit discussed in the second section of this article. Just a couple months away from revising it for year two! http://bit.ly/2DB9USW

– Benjamin Kort, tweet on Dec 2, 2019 @ 9:50 PM
This was the first year I taught media literacy / website evaluation this way, and while I already see some modifications that it needs, I felt MUCH better about the effectiveness of that unit than I ever have in the past.
Some ways you could get started:
Maybe Catalog Your Ebooks or Update Your Website
I wrote these 2 activities last on purpose because they really shouldn't be a priority.
I realized after adding my records from our state ebook consortium that they didn't have a call number, so over the past few years I've manually added a "copy" of that ebook with a barcode and a call number that starts with EBOOK to make it easier for my students to distinguish between ebooks and print books. It's tedious though, and not important in the grand scheme of things. But again, if you need to show you're working, it's there as a possibility: Standardize your ebook MARC records.
Try weeding your website resources like you weed your library's book collection.
Take Care
It should go without saying, but unfortunately it's often not said:
Take care of yourself.
Seriously…think about yourself and your family first for the next couple weeks. It's not selfish; it's care.
Consider what you can and cannot do to maintain your sanity and/or personal boundaries during this time. Don't be afraid to say no sometimes, or respectfully tell instead of ask permission.
I hope you're physically and mentally healthy, and taking care of yourself these next few weeks…because we will get through this. And I know we'll be stronger for it on the other side.