So I'm back with a few updates about what I've been up to this summer…
First, I've been making things!  I started by playing with Squishy Circuits…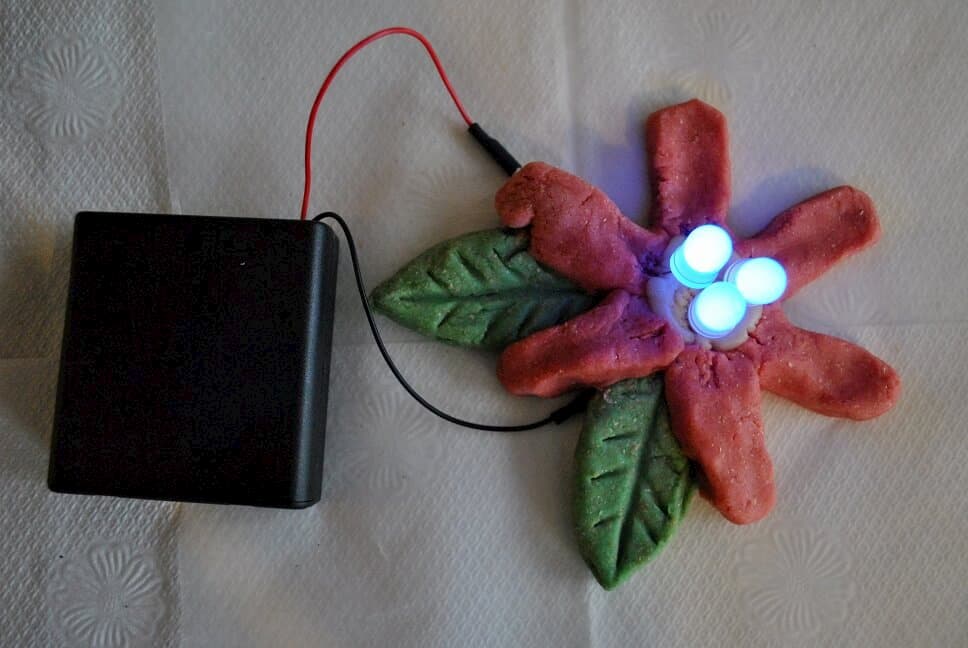 I learned a bit about LED lights and re-learned some electricity principles that I used to know in 4th or 5th grade.  I also learned that nieces and nephews love "making a party" out of the components and 2 chunks of salt dough.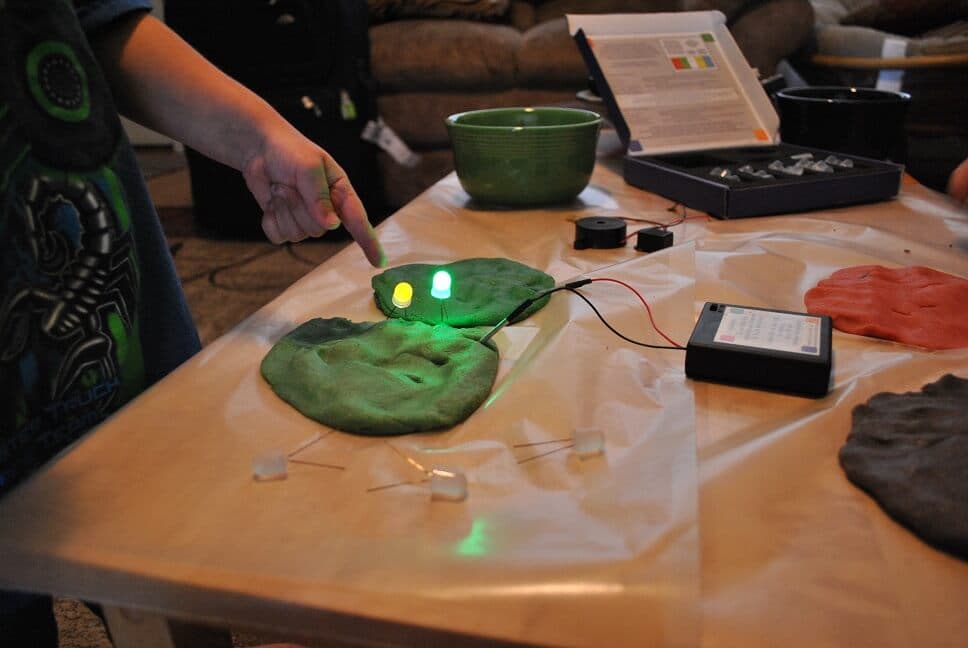 My most exciting project, however, has been an interactive nursery rhyme book with LED lights, a beeping buzzer, and a vibration motor.  For instance, Jack jumps over a lit candlestick, and the mouse runs up a clock that beeps.
It started as an idea to help teachers, librarians, and students learn about electronics.  When I read Jie Qi's tutorials on paper circuits and Librarian in the Middle's blog post about 21st Century Notebooking, my brain just caught fire!  What do librarians love more than stories, especially classics?  And while I don't think nursery rhymes and old stories "need" interactivity or bells and whistles to be interesting to children today, I do think that making 3 bags of wool light up as you count them with a child is fun to read and sing.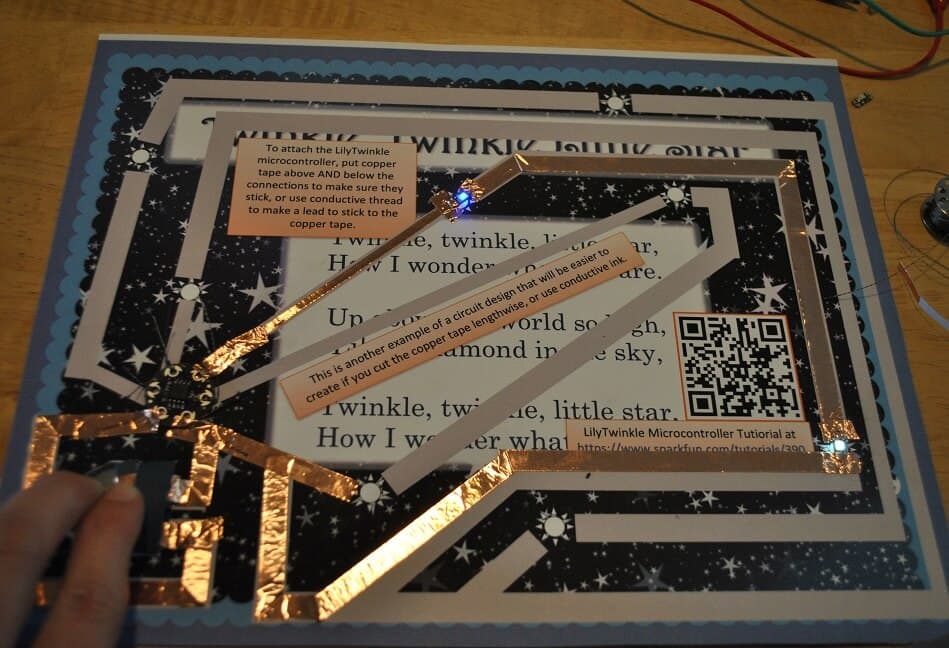 The "Twinkle" circuit  above is by far the most advanced paper circuit (or any circuit) I've ever made.  I learned that micro-controllers are SWEET, even when I don't know how to write Arduino code.
I learned that 1 coin battery isn't enough power to light 8 LEDs.  I learned that red LEDs are so power-greedy that they put out any other LED in the same circuit…and I still don't know why that is.
I learned that there is only ONE piezo buzzer on the market that will beep without programming a micro-controller…after trying all of them.
And like Librarian in the Middle, I learned that everything takes WAY longer than you think it will when you are "making."  I thought creating 7 interactive nursery rhyme pages would take a couple of weeks at most, not *all summer long*.
Still, I had a blast, and I experienced that incredible feeling of being joyfully consumed by a project I cared about.  My learning process was right on my "instructional level" to use the pedagogical term — not so easy that I got bored, but not so hard that I ever wanted to give up.  Even when I was sick of working on a page or frustrated by a particular aspect, my desire to create the finished project for myself and to share with my family kept me motivated.
I'm still pondering how I can transfer this knowledge and my experiences to my work in a library on a "flixed" schedule (that's part fixed classes, part flexibly scheduled collaborative time, for readers who aren't librarians).
Lastly, a quick announcement: Teachers Pay Teachers is having their Blast Off Back-to-School Site-wide Sale tomorrow, August 4th and Tuesday, August 5th!  If you are just gearing up for the new school year, you can get some great instruction and library management products and great deals too!  Most stores will be 20% off and when you use promo code BTS14 when you check out, you'll get an additional discount.