With the first day of school rapidly approaching, the most stressful "getting ready" tasks for me are 1.) transform our library's sterile, white concrete-block walls into something cozy and inviting, and 2.) plan a theme and coordinating orientation that will engage students and get them excited about reading (or at least the start of a new year).
This year, our library has been transformed into "Camp Read S'more," and I have to thank The Library Patch for the inspiration and bulletin board display product on TpT. They saved me HOURS of time this year! If you want ideas for library theme decorations, her Pinterest boards are the best! Over the past 9 years of teaching, though, I've learned a few tried-and-true decorating tricks of my own.
Disclaimer: This post contains affiliate links, which means if you purchase an item after clicking the link, I will receive a small commission. See Disclosures & Disclaimers for more information.
Quick Library Wall Decorating
One trick I use to decorate the library quickly and cheaply is to cover the white cement-block walls with rolls of bulletin board paper.  This year I used a 50-foot long and 4-foot tall roll of mountain-patterned fadeless bulletin board paper.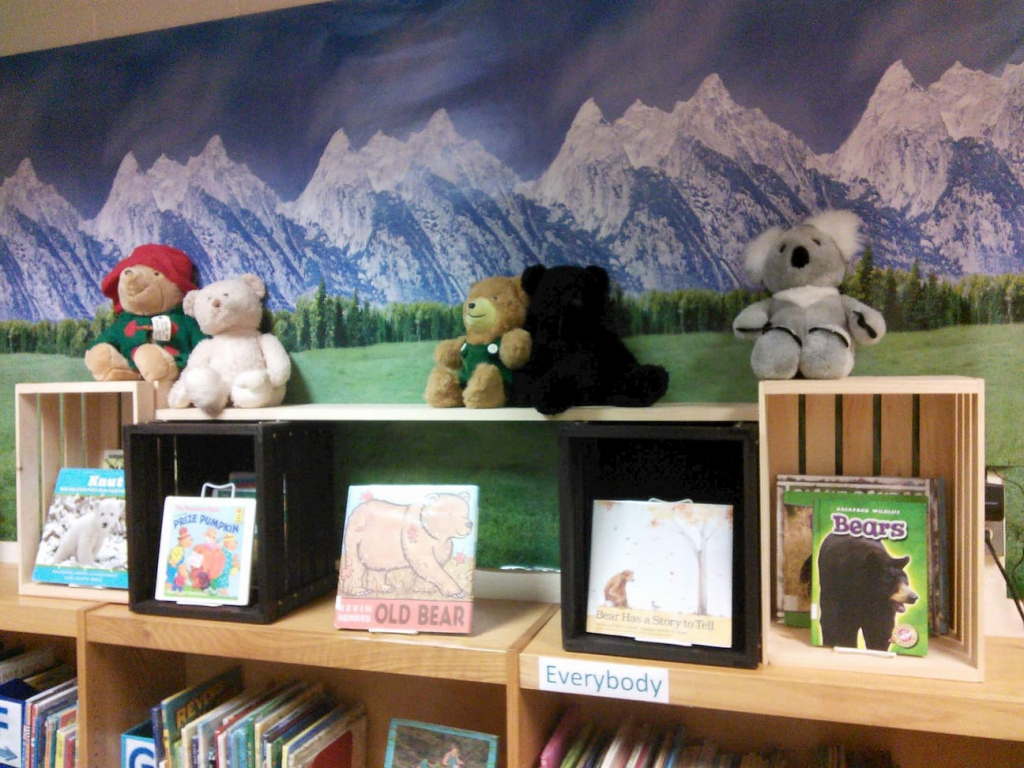 In the past, I used an ocean floor background for the "Under the Sea" theme, a leafy rainforest background for the "Go Bananas for Books" theme, and a starry night sky background for the "Blast Off with Books" theme. A single 50-foot roll is about $25-30, so it's very reasonable for the amount of wall space you cover.
To hang the paper, I've found that Mavalus tape works best, but Demco book repair tape also works if the sections are less than 5 feet long.  Mavalus tape is a bit pricey, but to me it's worth it because the high humidity in our library makes it very difficult to keep anything on the walls. Using the Mavalus tape this year, I haven't had to re-hang the bulletin board paper as I have in past years.  I used 3 rolls to hang all paper and posters in the library, so that's reasonably affordable to me.
Story Corner Decorations
Another trick I've used for several years is to add a map to the story corner (or "campfire corner" this year). Though I don't teach setting or geography skills explicitly, I like to reinforce those skills to visualize where a nonfiction story takes place or where a folktale comes from. So I hung a U.S. and world map on a portable bulletin board, and whenever a U.S. state or country is mentioned in a book I'm reading, students find it on the map. The maps I use were free swag from the World Book Online and Lerner Publishing stands at a PSLA conference a few years ago.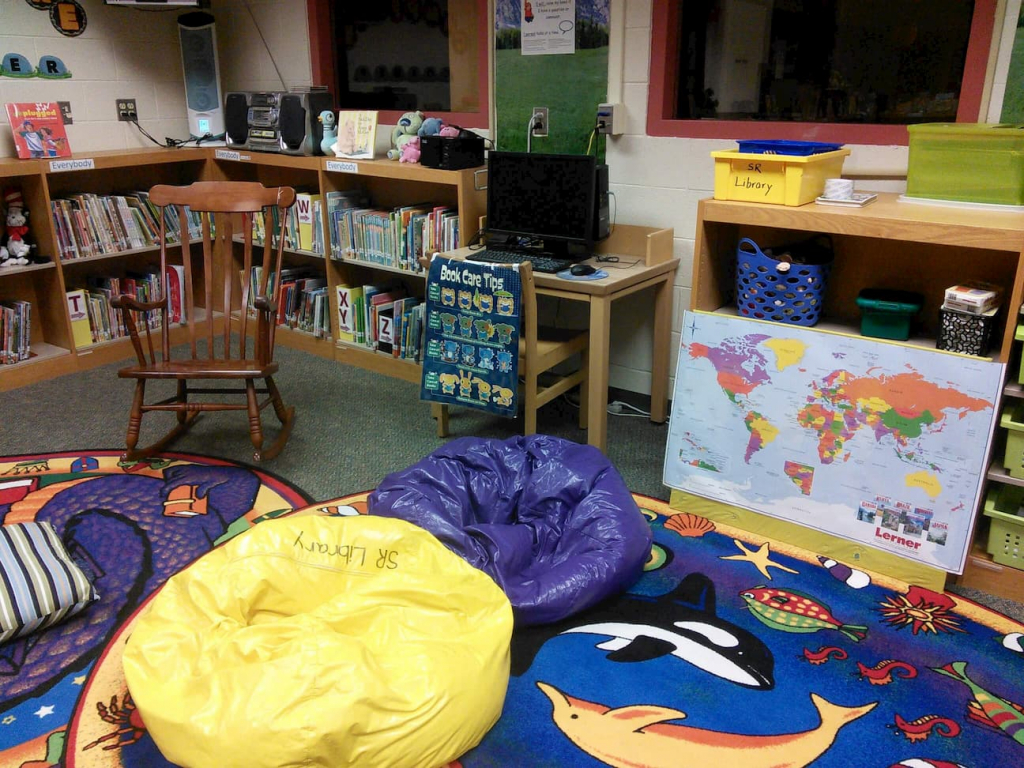 Student Voice and Ownership of Book Displays
Finally, this year I'm trying something new to save time decorating (and planning library orientation): I'm letting students set up some of the book displays with a "Recommended by" tent printed on cardstock.
I want to highlight what students have read over the summer and also build student ownership of the library space. If all goes well, I might even make this into an independent library center or add it to the Book Review Library Center.
If you'd like to try this idea yourself, Click the image to the right to download the FREE book recommendation display tents I created below.  Rainbow frames clipart by Magic Mistakes and Mayhem.
If you have any decorating tips or tricks, especially cheap and easy-to-replicate ones, leave your ideas in the comments! Happy first day of school, everyone!