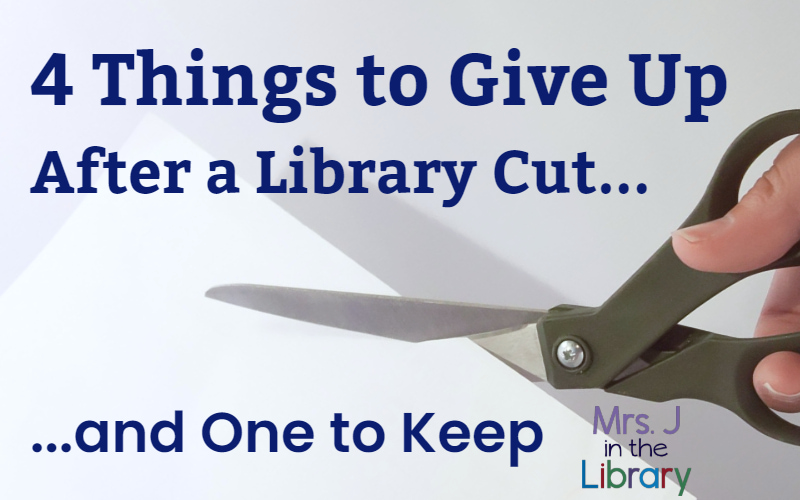 Veteran teacher-librarians know that there's always something being added to our plate, and rarely (if ever) is something taken away. It's one of the universal truths of education. Sometimes, despite our best advocacy efforts, there are library program cuts and budget cuts, and we just have to make do and change what we can to keep our sanity.
After the latest round of cuts in my district, I brainstormed potential solutions for our library. Here are some ideas for time-saving changes to make when you can't do it all:
Disclaimer: This post contains affiliate links, which means if you purchase an item after clicking the link, I will receive a small commission. See Disclosures & Disclaimers for more information.
Things to Change or Give Up Entirely
1. Increase Borrowing Time and Grace Days
It may seem counter-intuitive, but changing the checkout time from the traditional 10-12 school days (or two 6-day cycles) to 24 school days or four 6-day cycles has decreased the number of overdue books and fines to collect by over 50% at my library.
Additionally, giving students 4 "grace days" before an overdue fine is charged saves you from spending time collecting fines under 25 cents. In my experience, students still return their books within 2-3 cycles, so they get to finish a book without needing to renew it. It's a win-win!
2. Ditch the Date Due Cards
Our district uses Follett Destiny® for our circulation software, and there's an option for letting students login, see what they have checked out, and when everything is due. If you activate that feature (or talk to your tech department about activating it), you can also give the option to renew items once. So if students can find the due date digitally, they don't need a paper card with a stamped due date on it…if they bother to take them at all.
Bonus!  No date due cards to stamp also means no cards to pull out of the pockets too.  This saves SO much time at check in!
After a year of this practice, I'm still ordering books with a card pocket in the back, just in case I change my mind.  I doubt I will, but it's nice to have the option.  Ordering books without a pocket might save money on processing for some vendors, though.
3. Do a Partial Inventory, or Skip It This Year
You can do a partial inventory each year instead of a full inventory of every item. Or just start it in your circulation software and let it "run" through 2 full years, and focus on completing it every other year. Either way, you can reduce the time you spend on this tedious task without losing hundreds of books.
4. Think Carefully Before Volunteering for After-School or Other Commitments
This one is controversial, I know. There are stages and times in your life when coaching a sports team or running an after-school club is fulfilling, and it adds joy and positive energy to your life. I'm not in one of those stages right now.
If you're in a stage of life where overtime is having a negative effect on your health or personal life, do not feel guilty about saying "no" or "not this year" to extra responsibilities.  There's nothing wrong with putting yourself or your family or your kids ahead of other peoples' kids (aka our students).
Which brings me to what not to change…
Keep One of the Best Things
Think of your favorite part of your job as a teacher-librarian or library media specialist.  Is it bringing a book to life through a read-aloud?  Running a lunchtime book club or maker club?  Teaching students about a particular topic or unit, such as how to evaluate media or protect their privacy?  Book-talking new books?  Making awesome displays & decorations to market your library's materials and welcome students into the space? Sharing tech tips with teachers in your building or district?
Keep doing that
One Thing

.

Not five things, or even two or three. Just find One Thing that enriches your students' education and reminds you why you love being a teacher-librarian. Then, figure out how to keep it in your library's program or curriculum. Even if you have to reduce how often you do your One Thing, keeping it will bring you joy and encourage you to persevere when you are low on time and energy.

My One Thing this past year was the lunchtime Harry Potter book club. It's low maintenance once it's started, and it's a chance to share my passion for all things Harry Potter with interested students. Students come to the library during their lunch and recess time (about 30 minutes total), and bring their lunches to eat in the library.

While the students eat, I play Jim Dale's performance of the "Harry Potter and the Sorcerer's Stone" audiobook. Students read along from the stack of paperback books I've collected over the years, or just listen and enjoy the book. There is no data, no comprehension tests, and no pressure. It is the essence of Louise Rosenblatt's aesthetic stance of reading, and that's what brings me joy. It's experiential reading and shared, social reading at the same time! I LOVE sharing my love for books and Harry Potter through Lunch Bunch, and I'm committed to not giving that up.

If you've ever faced a budget cut or a program cut (and who hasn't?), what is One Thing you keep that enriches your library program and brings you joy? Leave a comment to share with others!