Welcome back to the 5-Day Library Set-up Challenge! I gave myself a challenge to prepare, set-up, and decorate my elementary school library in just 5 days by grouping my tasks and staying off social media/email while at school.
If you're trying the challenge along with me, follow along on Facebook or Instagram, and keep reading!
In case you missed the first 2 days, you can catch up with Day One and Day 2 of the Challenge (which started as just 3 days, but became unrealistic).
As a reminder, the challenge is about 5 dedicated working days with no distractions, but not necessarily consecutive days. Also, I take shortcuts, like using ready-made orientation lessons, printing customizable parent newsletters, and using bulletin board paper to cover the concrete-block walls.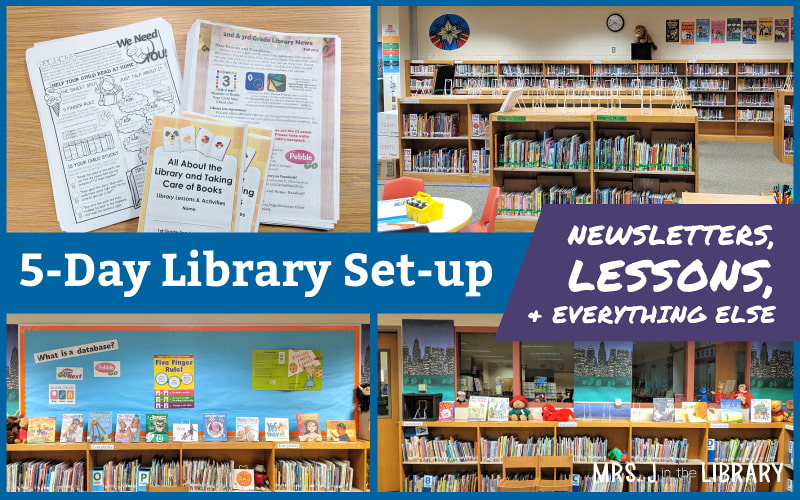 Day 3 through 5: How It Went (7-11 days before the first student day)
My previous focus and commitment to task batching started to fade during these last 3 days. I think part of it was just exhaustion and boredom with what I had to do. Printing, collating, and stapling paperwork is boring.
So is printing and stapling lesson booklets for orientation. That meant that when I got tired of it, or if my hand started to hurt from repetitive motion of stapling, I just switched to another task instead of staying focused and finishing the task at hand.
Hours worked on Day 3 (unpaid, of course): 5.5 hours
Hours worked on Day 4 (used as comp time for school year PD): 5.5 hours with childcare coverage, plus 1 hour with Little One hanging out with me
Hours worked on Day 5 (unpaid again): 5.5 hours
Total hours worked (mostly unpaid): 28.5 hours
Goals for End of Day 5: Parent communication is sent home in student packets, and orientation lessons lessons are ready to go.
Focusing on:
Printing parent newsletters

Stuffing newsletters into student packets

Printing K-2 orientation read-aloud activity booklets

Hang posters on walls
Printing Parent Communication & Lesson Materials
Every student gets a packet, and our school has a "Popsicle and Packet Pick-up Night" for families to get their packets. If they aren't picked up, then they are mailed home. The packet includes the child's classroom teacher, medical and emergency forms to fill out, transportation information, and school procedures. I add the Back-to-School Library Newsletter and Library Use Agreement to fill out for students in 2nd, 3rd, 4th, and 5th grades.
Get your own FREE Library Use Agreement by signing up for my email newsletter!
ALL students can use the library and check out books, even if they don't return the agreement, but if they return the form saying they'll take care of the things they borrow, then they can check out 3-4 items, including audiobooks and Maker Kits.
It took me 2 whole days to print, assemble, and stuff the newsletters in the students packets, one by one. This is definitely an area I could have improved for efficiency and having the packets printed ahead of time to save time at school. Or I could have just handed out the newsletters on the first day of library class. The reason I chose to do the extra work of packet-stuffing is that I've found that there's a higher chance of getting the Library Use agreements back with parent signatures if they go home with the rest of the forms to sign.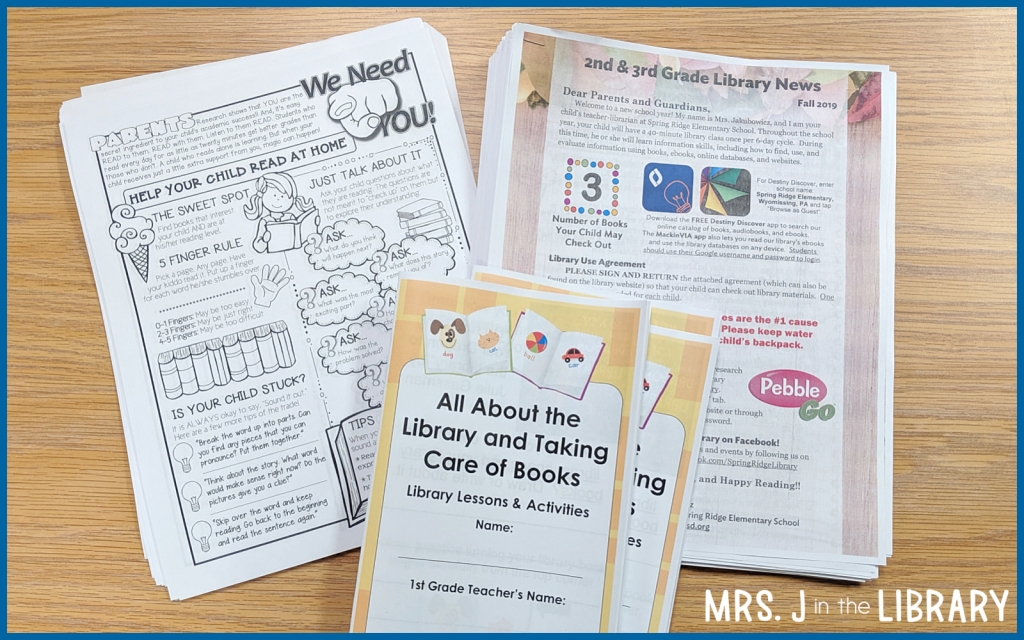 Hanging posters
As I waited for the printer or copier to finish a job, or if my hands got tired of stapling papers, I hung up posters around the library. Unfortunately, hanging posters sometimes became a distraction when I just got tired of doing the monotonous, tedious work of packet stuffing and booklet making.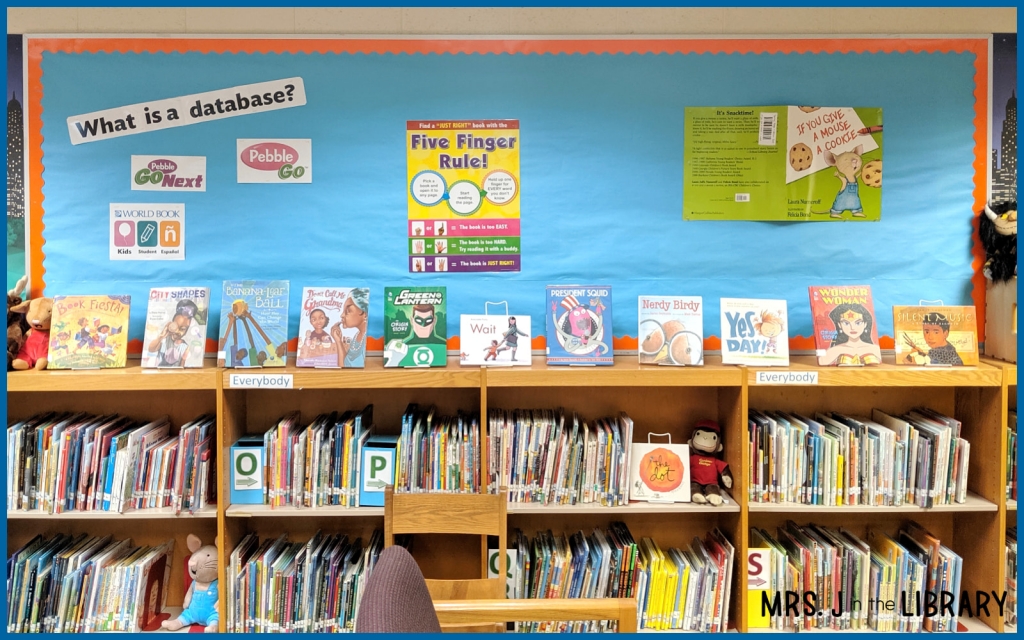 Shelf Displays
Another job that became a distraction was picking books to put on display on the easels. While this should get done eventually, I let myself get sucked into displays WAY too often, when I should have just stuck with my original task and finished it before moving onto something else.
What Didn't Get Done, or I Chose Not to Do
I didn't make library cards, because I do have a part-time library assistant who takes care of that. I know that's not the case for everyone, and if I was a solo librarian, I would have focused on getting library cards printed for students in kindergarten and who are new to our school instead of putting newsletters in packets.
I also didn't get my Library Word Wall posters or an updated citation poster printed and laminated like I wanted to. I just decided not to worry about it, and work on it as I have time. I'm VERY lucky to have some management time built into my teaching schedule, here and there. My goal is to have those 2 tasks finished by the mid-September.
Scheduling Ideas for You
If you don't have childcare coverage or big chunks of uninterrupted time, here's you could work on or finish at home:
Printing the newsletters ahead of time

Another time-saving, but more expensive option is to have your

local office supplies store

do all of the printing and/or assembling of your newsletter materials

Assembling newsletter packets at home, so that they are ready to stuff into students' packets before the pick-up event, and

Printing, folding, and stapling the lesson booklets in smaller time chunks (some at school, some at home, or all at home) will also make your hands and wrists feel better from the jarring movement of the stapler.
This is the last post in the 5-Day Library Setup Challenge, but I would love to stay connected with you! Sign up for my email newsletter below to get the FREE editable Library Use Agreement to use in your school library.
Get your FREE Library Use Agreement, as well as tips, exclusive freebies, and the inside scoop on product sales by signing up!