Welcome to a new school year!
School has been back in session for about a month in my area, and this year I've started a few new experiments and ideas that I'm hoping turn out well. Only time will tell…
1. Five book/item checkouts with student- and parent-signed agreement
Last year I required the form before any checkouts, and for some students that was very limiting to their access and use of the library's resources.  This year, if students don't return their Library Use Agreement form, they still can check out 2 books, but no audiobooks or the wildly popular maker kits.
Using the form completion as an "upgrade" or extra privilege has been pretty effective in motivating both new and returning students, and I like that there is no barrier to checking out while still encouraging student responsibility and parent communication.
2. Library Facebook page in lieu of paper newsletters
While I did use a paper newsletter for the back-to-school newsletters, I planned ahead to include them in our school's "packet pick-up" night so that parents received it with all of the other school forms. I'm not sure if parents are actually reading it, but the majority of the agreement forms were returned. I'm taking that as a good sign.
Our library Facebook page is what I'm using for my primary communication tool during the rest of the year. I post library and reading advocacy articles, as well as book recommendations and upcoming events. For more post ideas, check out my Library Website Social Media Pinterest board!
3. Research centers first, then free choice
Last year I required every student to complete 3 library "badges" in Research Skills, Reading Promotion, and Makerspace/Creation & Tech. This year, I'm trying something a bit more progressive and constructivist. When I introduce centers this fall, I will offer 6 research centers only at first. Then after students earn their Research Skills badge, they can have free-choice of reading and makerspace centers. They will be able to earn more badges, but the others won't be required. I think it will be more of a challenge for me to engage all students, but once a student finds their passion, I think their engagement and learning will be more authentic.
4. New Student Learning Objective (SLO) assessment format
Like many librarians and teachers across the nation, a percentage of my evaluation is based on "data." For music, gym, art, and library teachers like myself, 15% of my evaluation must be a student learning objective, or SLO, that proves with data that I assessed students in a particular skill.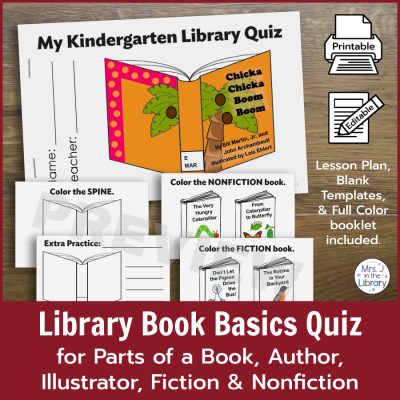 For kindergarten, I'm changing how I assess the parts of a book, author & illustrator roles, and fiction vs. nonfiction. I made a FREE printable booklet that students can complete as an assessment of their knowledge. I'm going to try having students complete one page per week until everyone is finished, including "extra practice" pages for students to make-up incorrectly completed pages.
So what are the new ideas or experiments that you are trying this year?
I'd love to hear them in the comments, and I hope we can inspire each other!