We made it more than halfway through the school year! (Or maybe you already celebrated the 100th day of school.)
Earlier this school year, I shared some ways to make the best of teaching on a cart, and how I was teaching library classes in remote, hybrid, and in-person (sometimes simultaneously). This month, I wanted to focus on what's working for me so far this year, and also what's not. Because sometimes we can't "thrive," and surviving an unbelievably tough school year is the best we can do.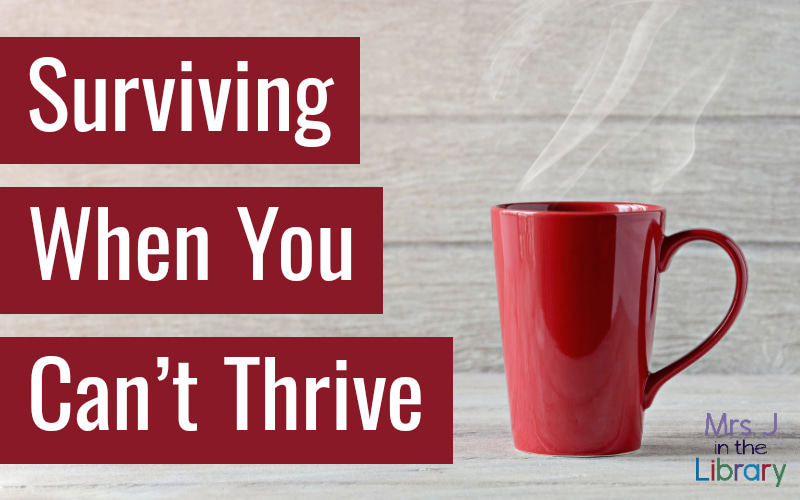 Disclaimer: This post contains affiliate links, which means if you purchase an item after clicking the link, I will receive a small commission. See Disclosures & Disclaimers for more information.
What's Working:
1. Keeping it simple
I'm using the same read-aloud book choices that I did in previous years, and I'm extending those read-aloud lessons into upper grades as well. While I applaud those are taking the opportunity to innovate while state and federal regulations are relaxed, I simply don't have the energy this year.
My voice has adjusted to reading aloud every day, and my portable voice amplifier is the reason why I can still talk when I get home. It was very well-worth the investment!
I use Google Meet, Google Classroom, and Google Slides. That's it. No Bitmoji classrooms, no extra tech tools, just the basics that my district requires.
2. More student independent time
Due to the way our classes are blocked in to 8-week sessions this year, I have students spend 1 whole class period placing holds, then doing an independent activity. I use those same independent activities 2 days later when I bring students' books on hold to check out. These 2 lighter teaching days allow me to do my lesson and a little of my clerical work while students work independently.
GET THIS FREEBIE: Editable, Virtual Lesson Plan Template in Google Slides
I've been pleasantly surprised at how well the independent work and choice boards system has gone. Almost everyone is engaged and finds something they are interested in. It makes me consider doing more "free choice" library periods with a choice board when we return to our previous teaching schedule.
3. Tiny little self-care habits
The word "self-care" means different things to everyone, and it's an area I'm historically terrible at. I struggle with getting enough sleep, drinking enough water, and fitting in any type of "extra" exercise that isn't pushing my library cart from room to room.
So when I recently got my first fitness tracker, I decided to take 15 minutes of my planning time to walk laps around the school with my mask on, and up and down the stairs. And it's been really, really helpful with both my stress level and my energy level later in the day. Yes, I'm sweating a bit in my work clothes, and I keep a pair of sneakers at school to change into…but it has made a noticeable positive difference.
I may not be losing a significant amount of weight (my eventual goal), but I feel stronger and like I have more energy overall.
4. Sitting down to eat lunch
Another building specialist and I regularly eat our lunches together in the library since our schedules are very close…socially distanced at a large table, of course. No one else is using the library space, and it's a lot cozier than eating in the gym-turned-faculty-room while trying to hold a conversation over the bad acoustics. Occasionally one of the itinerant teachers joins us when they aren't traveling to other schools, and we've all commented this year about how nice it is to just chill during lunch. We don't check our email, or work on our Chromebooks. It's a much needed mental break.
What's Not Working:
1. The grind
Even with over half a year under my belt, it feels like a never-ending grind. Week in and week out of the same routine with the same students every day for 8 weeks, then swapping classes and repeating the same 8 weeks again.
I don't think I'm alone in feeling like it's too early to start counting down until the end of the school year, but also wanting to have a finite number to help me make it through.
2. Shelving the books
Even with a part-time assistant that I'm extremely grateful for, there are books EVERYWHERE in the library.
Overflowing every shelving cart, plus the browsing cart for students to "shop" from, plus the holds carts, plus on top of the shelves in piles when we run out of room. They are just all over the place…and not even in much of an order.
The solution we came up with was to stop fulfilling holds for 1 week (3 days of which were snow days anyway), and just catch up on shelving before doing anything else. It definitely helped.
And when we can't keep up, I'm working on pretending I'm Elsa and just…let…it…go.
How about you? What strategies or tips are working for you? Or what's something that's not working that you can (or wish you could) get rid of?
Share your ideas on the social media posts below so we can help and support each other!