Earlier this year, I listened to podcasts from Jennifer Gonzalez and Angela Watson about making lessons flexible enough to work for all-virtual instruction as well as in face-to-face instruction, or even a hybrid of the two. They recommended designing lessons for "digital first" or remote lessons that you can use to teach while you are in the room. Then, if there is a sudden school closure for health and safety reasons, you don't need to re-create your lesson or design a brand new one; you can just use the same lesson with either pre-record video directions, or teach your lesson during a live Zoom or Google Meet class.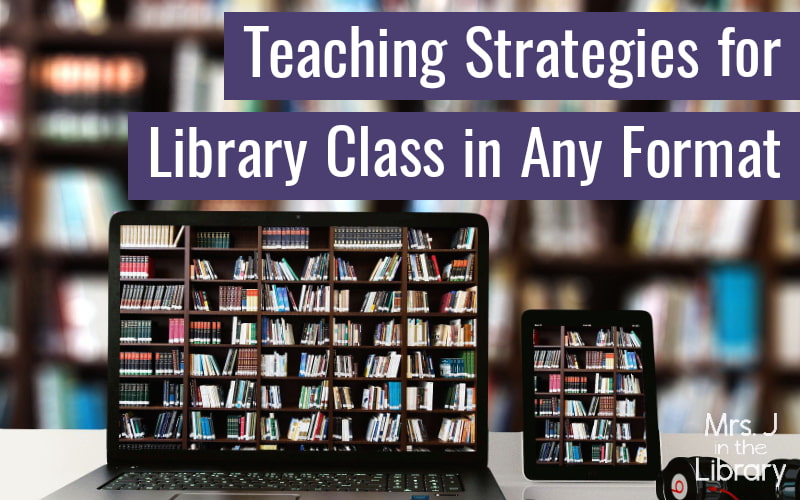 With that goal in mind, I have been using a few ways to make teaching in-person (on a cart) as well as remote teaching to go more smoothly. Plus, it's actually less stressful and overwhelming for me to plan. Here's my advice for teaching library lessons in a flexible, sustainable way.
Disclaimer: This post contains affiliate links, which means if you purchase an item after clicking the link, I will receive a small commission. See Disclosures & Disclaimers for more information.
Pick a Consistent Digital Platform or Tool
I mentioned this previously in my 10 Virtual Library Activities blog post, but it bears repeating: Choose a platform or tool for your lessons and stick with it. Our district requires Google Classroom, so I have my own library-specific Google Classroom for each grade level. I also use Google Slides as my lesson format the majority of the time, because it's easy to add almost anything…links, videos, drawings, text boxes, clipart, images, and moveable pieces for students to interact with.
READ MORE: 10 Virtual Library Activities Students Can Do at Home
Reuse the Same Lesson or Book for Multiple Grades
Since the start of this school year I've been doing a lot of digital read-aloud lessons with kindergarten through 3rd grade classes as I teach in-person, traveling to classrooms on a cart.
Normally I try to read different books to each grade level so that students experience different books and content as they move through the school's grades. This year, I gave myself permission to read the same book to a couple grade levels, and I keep the rest of the lesson simple. Kindergarten and 1st grade classes have almost identical lessons, as do 2nd and 3rd grade classes, and 4th and 5th grade classes.
Create Dedicated Sub Plans NOW…Preferably Collaboratively
Getting sick as a teacher is always a tough choice between suffering through it while teaching or taking the extra couple hours to write sub plans in order to stay home and rest. (In my experience, if you have to ask yourself that question, you should probably go with the extra time for sub plans…even if it's a mental health day.) With the health and safety measures in place this year, however, that might force you to take a last minute sick day.
I've taken 3 days off so far this year while I waited for a (thankfully negative) COVID-19 test. And I was so grateful that my teacher-librarian colleagues and I had worked together to make dedicated outer space-themed sub plans with 10+ different ebooks linked directly (to Capstone interactive ebooks) and links to other space- and planet-themed activities. There's enough in that 1 Google Slides file for a sub to cover about a week of absences, and I was grateful that our district forced us to have them done before school started as part of our PD days.
If you haven't made something similar yet, plan doing so immediately. Even if you can't make the entire plan at once, just start on it, and add things little by little.
GET THIS FREEBIE: Editable, Virtual Lesson Plan Template in Google Slides
Click the images or the link above to get the free lesson plan template sent to your email inbox.
Set and Keep a Routine that Works for Teaching in Any Environment
In past years, I had a specific routine for lessons based on book browsing & checkout time and students physically visiting the library.
Book return when students enter
Read-aloud or lesson activities
Book exchange & checkout until the end of the class period
This year due to the COVID-19 pandemic, students aren't coming to the library physically, but I'm still teaching my regular 40-minute classes. In addition, our specials schedule is "blocked", meaning I teach the same 5 classrooms of students every day for 35 or so days, then switch to a different set of 4 or 5 classrooms for the next "block" of 35-ish days.
Also, we are checking out physical books this year, because…well let's face it, students need book access! The placing holds and checkout days vary by grade level, because I found that dragging a teaching cart AND a cart of books to every classroom was too much for one day. So each grade level places holds and then checks out 2 days later.
Kindergarten and 1st Grade Routine & Lessons
Using the printable and digital read-aloud units I've created, kindergarten and 1st grade classes looks like this:
If and/or when we have to move to remote teaching, students will either take their printed activity booklet home, or access the digital activities in Google Classroom.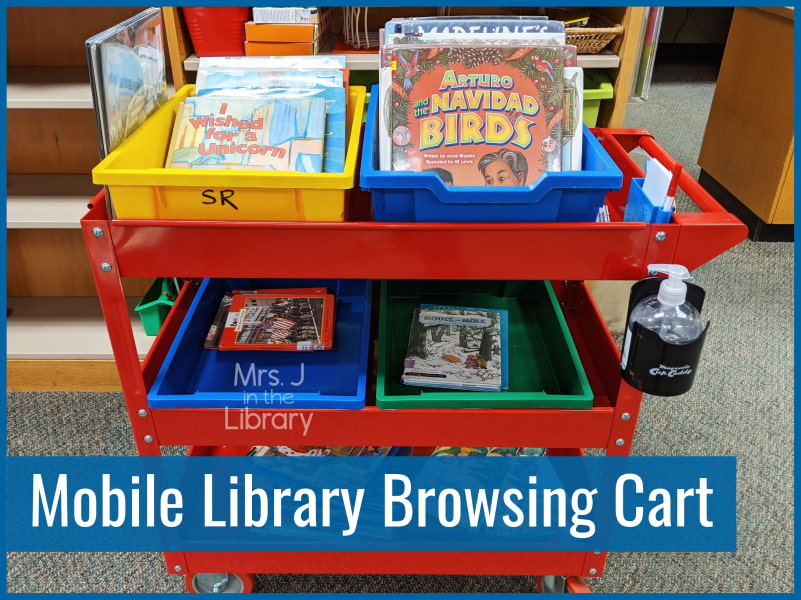 ---
2nd and 3rd Grade Routine & Lesson Ideas
The weekly lessons for 2nd and 3rd graders are a little different since I taught them how to place holds during the first few weeks of school. I still use the digital read-aloud activities, especially the Pennsylvania Young Reader's Choice Digital Lesson Activities:
For moving to remote or virtual learning, students will need supplies for the maker activities only, and everything else can be done in Google Classroom, Meet, or Slides.
---
4th and 5th Grade Routine & Lesson Ideas
My classes of older students have presented a bigger challenge to me from a curriculum standpoint. Of course most older students love listening to read-alouds as much as younger students, but I wanted to incorporate something a bit more academically rigorous. Here's our weekly schedule for the 7 weeks of their library "block"
If or when we move to remote learning, students can join a Google Meet through their Classroom, and complete any activities online.
Want to try doing "Tell the Truth Tuesday" with your students?
Get the Books
Support local and small bookstores by purchasing through BookShop: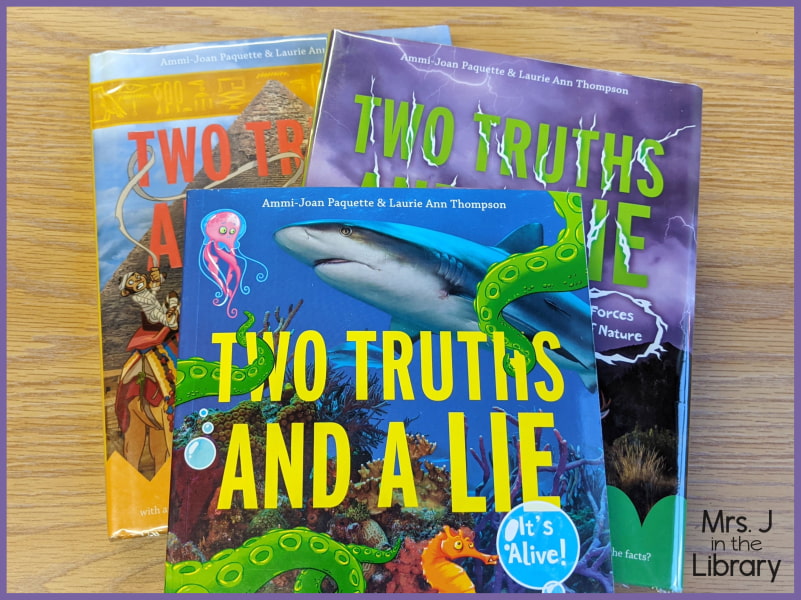 or you can also buy them on Amazon.com.
Get the Activity
The Google Doc worksheet is for students to edit collaboratively (as a whole class or in small groups) to take notes while you read or research after reading.
You can scan the 3 stories as a PDF file to attach to a Google Classroom material or assignment as "students can view". Then set the file permissions so that viewers CANNOT download or make a copy…only view on Google Docs.
When remote teaching/learning is over, just delete the file from your Google Drive to comply with copyright law.
My Favorite Two Truths and Lie Chapters and Other Books for Teaching Media Evaluation
I actually started Tell the Truth Tuesdays with Fairy Spell: How Two Girls Convinced the World That Fairies Are Real by Marc Tyler Nobleman. That led to a surprisingly heated class discussion about whether or not it was true when I stopped halfway through the story.
In the Histories and Mysteries one, I used "Chapter 3: Over 10 Years Ago" for a lesson in 5th grade, however, watch the vocabulary. I had to stop a few times and explain some of the historical slang or out-of-fashion words.
From the It's Alive book, "Chapter 6: Large Animals" is nice and short for a 40-minute class as well, and I would feel comfortable reading that to students in 3rd grade and up, though some of the more difficult vocabulary makes it more appropriate for 4th grade and up.
From the Forces of Nature book, "Chapter 6: Surprising Space" is a bit long for 40-minutes of class time, but the content of the 3 stories is so engaging, that it's worth trying with 4th and 5th grade students.
For students in younger grades, you could try the same lesson with The Nantucket Sea Monster: A Fake News Story or the Truth or Lie series by Erica S. Perl. Though I haven't read the Truth or Lie series yet, they are aimed at younger learners as "Step into Reading Level 3" first chapter books.
This year is ridiculously challenging…
There's no nice way to put it, and it's the understatement of the millennia. I hope these ideas help to make this year a *tiny* bit easier. Take care of yourself and spend time with people you love. And if you are looking for more resources, everything in my website shop and TPT store will be 15% off with code CYBER20 starting Monday, November 30th and ending December 1st at 11:59 pm. Happy Thanksgiving if you celebrate, and take care!