As we begin planning for a new school year that's going to be different than every other back-to-school season, many teacher-librarians are finding out that they will be teaching "on a cart". Teaching "on a cart" means that all of your teaching supplies, materials, and tech are on a rolling cart, such as an AV cart or a book shelving cart. The teacher moves from classroom to classroom to teach her or his lessons.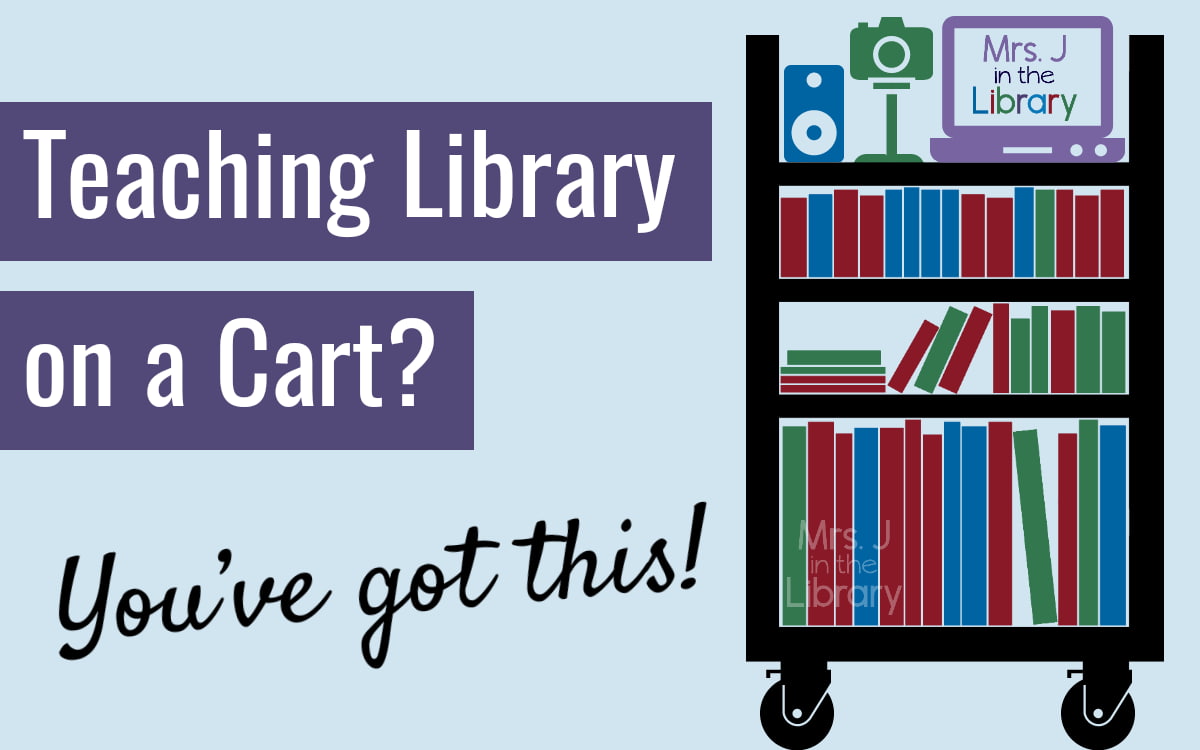 Disclaimer: This post contains affiliate links, which means if you purchase an item after clicking the link, I will receive a small commission. See Disclosures & Disclaimers for more information.
But as we know, COVID-19 has changed everything.
Many of us are now faced with the staggering task of teaching our entire curriculum in the regular classroom to minimize student movement. And because librarians care about their students' reading habits and the learning culture of their schools, we're still committed to safely checking out physical books to students.
Though I've rarely had to teach on a cart, sometimes during standardized testing, I used a book shelving cart to bring my laptop, a document camera, and a monitor cable so that I could teach my lessons through the classroom projector. And while back-to-school plans are still in the works at my district, I think teaching on a cart is a likely possibility for this year. Here are some ways I'm planning to stay organized to keep everything running smoothly.
Tips for Organizing Your Library Teaching Cart
What the Tech?
Dr. Chrissy O'Malley at Better Science Teaching made a very thorough video review of 3 different personal voice amplification systems that could work for teachers in an average-sized classroom.
I'll likely get this one, after watching Dr. O'Malley's video and reading My Tech Classroom's round-up of 11 Best Voice Amplifiers and Microphone Systems for Teachers. While it's more expensive, I like that it has a bigger range, so if I decide to teach outdoors, I can crank up the volume.
What about my beloved Juno FrontRow system? I still love it and prefer using it for the sound quality and suppressing feedback squeals…but it's big, cumbersome, and needs to be plugged in. So that means it's not portable enough to keep on a cart in my opinion.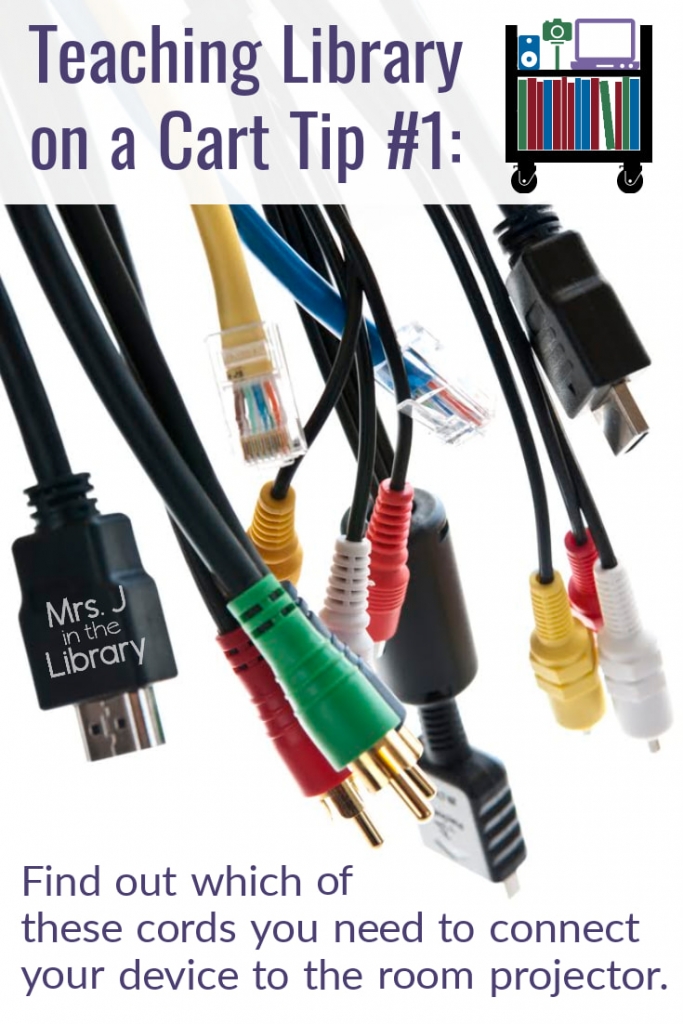 If you decide to get a voice amplifier, check if it can connect to Bluetooth or with an audio cable to play sound from your teaching device. Alternatively, you could purchase a Bluetooth speaker and microphone separately. Just remember that everything wireless and/or Bluetooth will need to be charged frequently, and students may try to connect THEIR devices to your Bluetooth speaker without your permission.
Anker speakers like this one will produce great sound quality for the cost, but there are many others that will work for less money.
Most "smart speakers" such as Alexa and Google Nest often project sound well throughout a room, but you should check with your school's tech department about privacy concerns before using one.
Organize for Instruction
Pick a platform or format for your virtual lessons and stick to it for at least 1 quarter or semester. If at all possible, have your own Google Classroom, SeeSaw, or Class Dojo to connect directly with students and families, not through the classroom teacher's platform.
If you want student to respond individually to your lessons, use 1-2 tools consistently. There's nothing wrong with experimenting (and we should), but this is also not the time to try every tool before picking something that works.
My own recommendations: Google Slides for virtual lessons, Google Classroom for learning platform, FlipGrid or Padlet for student responses
Use gallon-size or 2-gallon resealable bags and have students drop them in to avoid contact. Seal and leave untouched between classes.
Organize and store the resealable bags in book bins on your cart, one bin per day of classes.
Packets can be distributed to students if a last-minute closure is announced, or sent during a weekly "packet pickup".
Distributing Physical Books from a Cart
Send home instructions for parents of younger students (written and video if possible)
Books can be stored vertically in plastic bags with handles and labeled in wet-erase marker so they can be wiped off and re-used.

Consider color-coding the erasable marker for different classes or grade levels

When establishing a library class routine, think about when to distribute books:

Right away to have students use them for your lesson, i.e. a picture walk?
Or at the end to keep students focused on your lesson content?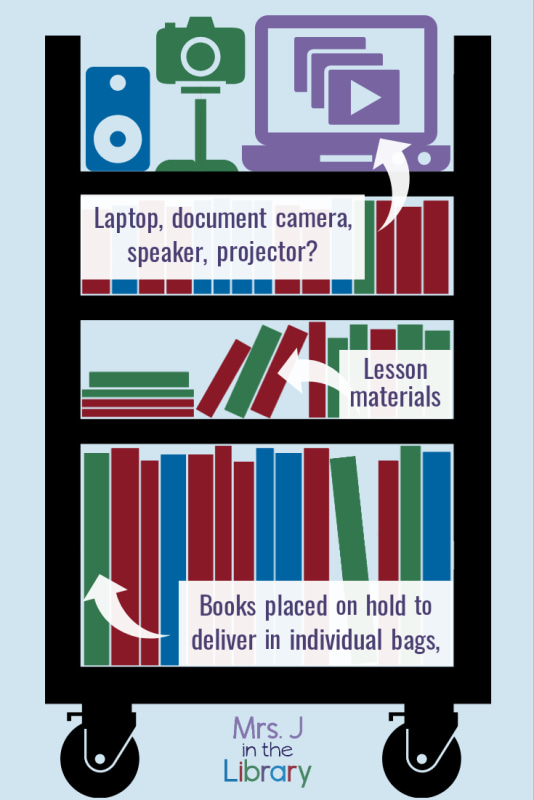 Periodically take a library class to update "want to check out" lists with book talks, challenges, and writing/reading reviews from other students
While changes to our back-to-school routine are always challenging (this year more than most), I hope these ideas and tools can help you to begin planning for teaching "on a cart" in a productive way. We'll get through these tough times by supporting each other and sharing what works for us.
And if you'd like more information and resources from the amazing teacher-librarians in my PLN, check out the next post in the Back 2 the Books Blog Hop & Giveaway! You can enter the giveaway below starting on July 29, 2020 until August 2, 2020, and the next post in the blog hop is from my friend Laura Trapp from The Trapped Librarian. Good luck, and enjoy!
---
Read the next blog post in the Back 2 the Books Blog Hop:
The Trapped Librarian's ideas for back to school in the library