It's been almost a whole school year since I hit the "Import Titles" button and replaced ALL of my Dewey nonfiction MARC records with whole number Dewey call numbers, without decimals. It was a bit daunting making such a wildly revolutionary decision. Thanks to some VERY dedicated volunteers, countless hours spent re-stickering spine labels, and new, large, and colorful signs, however, I honestly think that the change has made our nonfiction section more accessible to students and faculty.
Here are some of my discoveries and reflections…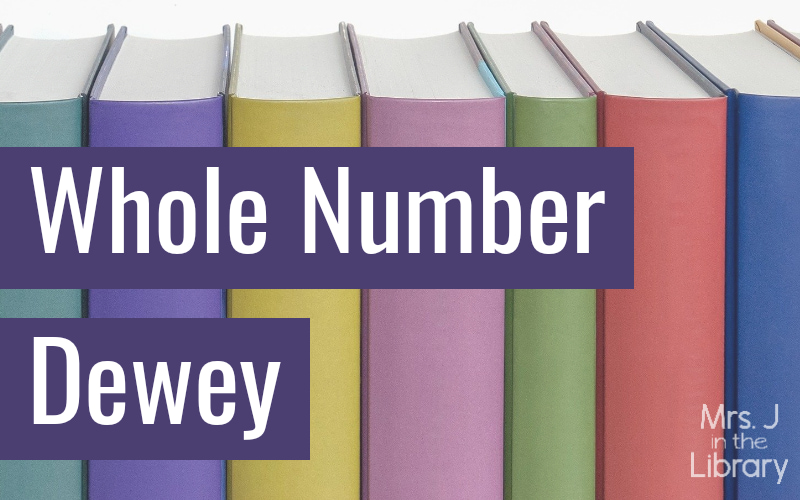 It took almost a full school year to re-sticker everything to Whole Number Dewey…
…and that was with a part-time assistant and a few fantastic volunteers spending every non-shelving moment on this project (without working in the summer). Between classes and after school, we were picking up the stack of spine labels to change part of a shelf or the books that were returned that day. It's tedious and time-consuming, no doubt about it. It's also worth it!
Once we got started, I was taking a harder look at where books were cataloged…
I questioned if a particular book or section of books really belonged there (from a 7-year-old's perspective). It was this reflection that prompted me to manually change the pets from 636 to 597-599, because they are ANIMALS after all. Why catalogers still put them with the farming books is beyond me!
Knowing your collection and your students is crucial.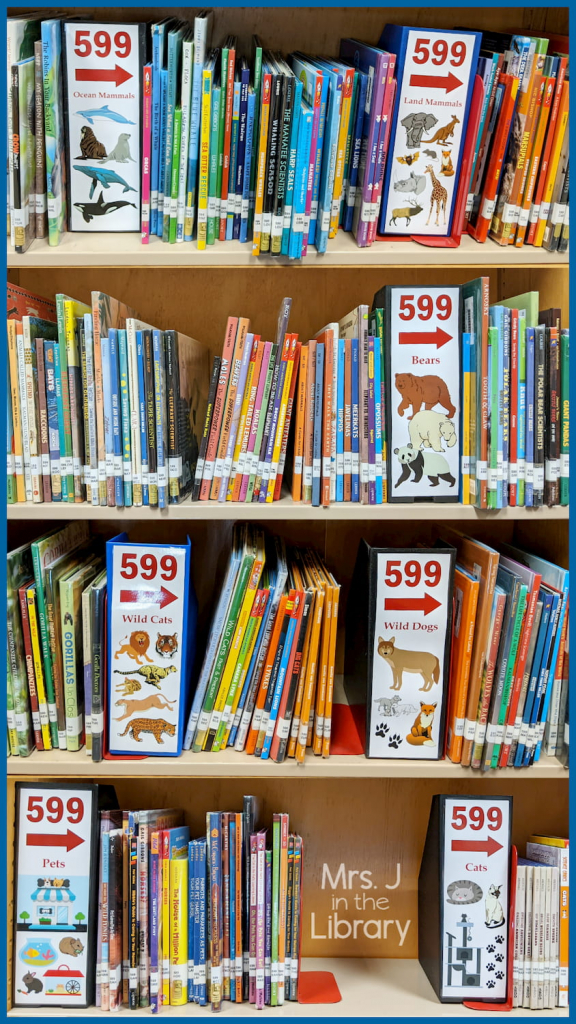 Know what's popular, and what needs signage. Think about how your students think and where a child would most likely look for a particular book. Then put it in that section.
Having a whole number in the online catalog and decimals on the actual spine label DID NOT significantly affect how students found books.
This pleasant surprise led me to an interesting conclusion: Students weren't paying attention to the parts of the call number they can't see on the printed label anyway…like the decimal wrapped around the spine. They just look at the 3 numbers they can see on the spine, and then just look around that area. When students got stuck trying to find a shelf that had moved (like the pets), they just asked a friend or me for help.
Signage is SO important!
It needs to be "just-in-time" to help students find what they need whether they are searching for a specific number or just browsing/aimlessly wandering. Signage is how I keep the 599's from becoming one huge section with monkeys, bears, and kangaroos inter-filed. I just added a few magazine file boxes and added the number 599 and different images to each. The same for 796 with the most popular sports, though we also found adding a sports ball sticker to the spine helps too. (See image on the right.)
Sign up for my email newsletter and get a FREE sample of the nonfiction signs in the photo.
Weeding!
If you use magazine boxes for shelf signage (available in my shop if you're interested), you need to know that the boxes take up a good amount of space on the shelf. So weed your collection. Use a collection analysis tool like the Percentage Relative Use (PRU) spreadsheet below to analyze what you have and what you need. Remember, we are competing with video games for students' attention. If a book (or its cover) is over 15 years old and doesn't stack up, get rid of it! For my collection, if a book hasn't been checked out in the 10 years that we've had Destiny as our circulation system, I made sure there was a *REALLY* good reason to keep it, or I made plans to replace it with updated cover art.
The Results:
I just finished adding the last of the magazine file box signage to our shelves this week, and I've VERY happy with how they look. I'll be updating my products soon with the new additions too.
So I hope this post was helpful if you are thinking of changing your school library's organization. Have you ever altered the traditional Dewey Decimal System to meet young students' needs? Post in the comments!