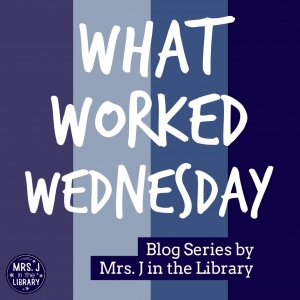 I'm starting a new series based on several of the "ideas that worked" that I've previously blogged about, such as Cheap and Easy Library Decorations, our Library Treasure Store program for K-2 students, and the Whole Number Dewey modified library classification for young students. Each post will include an idea that worked in my school library and how it makes my life less stressful, more organized, and/or more manageable.
Today's idea that worked is:
Use shallow cardboard boxes to keep books forward on library shelves.

How this idea lowers my stress level:
Books pushed back into the shadows of a shelf are one of my librarian pet peeves. Elementary students probably think they're being helpful when they do this, and I have no desire to spend valuable instruction time teaching them to leave the books where they are.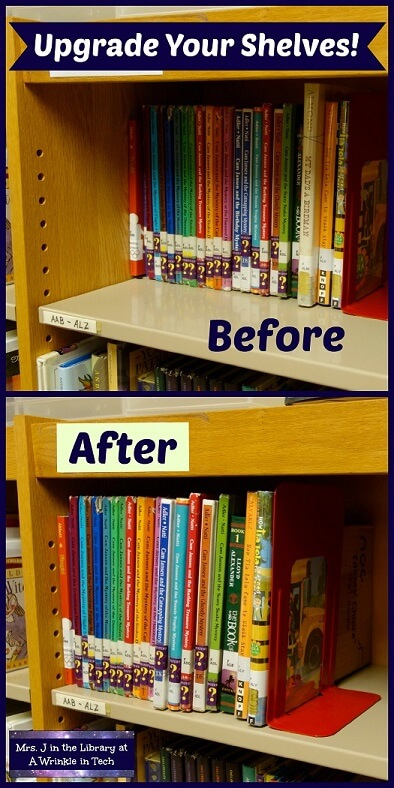 To keep my sanity, I collect small, shallow boxes and put them behind chapter books so they can't be pushed back.  So far, I have about 25 shelves completed, and to my eyes it does make the books more visible.  It's especially helpful for "first chapter books" aka easy readers, fiction novels, and our easy nonfiction books.
I plan to add more boxes as I find or get them until I complete the rest of the first chapter books section and the fiction section. I haven't compared circulation stats yet, but I'm wondering if they will increase or not with more light shining on the book spines.
Try it out, and see if you like the brighter look of your library shelves!
If you want more library management tips like this one, as well as elementary and secondary library curriculum and makerspace resources, follow me on Pinterest!