Welcome back to the 5-Day Library Set-up Challenge! I set a goal to prepare and decorate my elementary school library in just 5 days by grouping my tasks and staying off social media/email at school.
If you're trying the challenge along with me, follow along on Facebook or Instagram, and keep reading!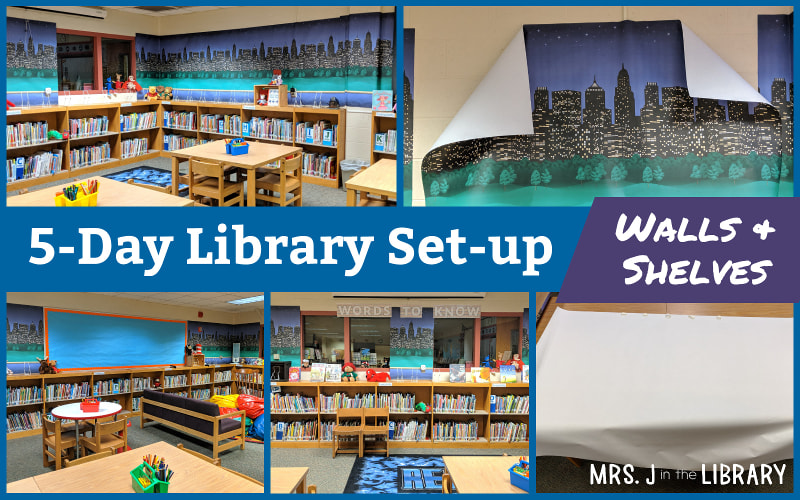 As a reminder, the challenge is about 5 dedicated working days with no distractions, but not necessarily consecutive days. Day 1 was 5 days ago for me, which included a weekend and some family events.
Also, I take shortcuts, such as using ready-made orientation lessons, printing customizable parent newsletters, and using bulletin board paper to cover the ugly painted concrete-block walls. My library does not look like Pinterest, and I'm okay with it. Of course, if you like your library looking Instagram-ready, there's nothing wrong with it and I'm not judging…that's just not a priority for me, and it shouldn't be an expectation of librarians (or any educator).
Disclaimer: This post contains affiliate links, which means if you purchase an item after clicking the link, I will receive a small commission. See Disclosures & Disclaimers for more information.
Day 2: How It Went (12 days before the first student day)
Several teachers in the building today, and a couple distractions, but overall it was a success in focusing and just getting the work done. Today was a very physically demanding day, with lots of climbing up and down the chairs to hang bulletin board paper. When I took a break, it was usually to start the printer going again so that I'll be ready for putting together parent newsletters for tomorrow.
Hours worked today (unpaid, of course): 5.5 hours
Total hours worked (again, unpaid): 11 hours
Goal for Day 2: The library is prettier than it was when I walked in this morning.
Focusing on:
Walls

Printing parent newsletters

Displays on shelves

(if time)
Walls
I've written before about how I hate working with concrete block walls, especially when the library gets so humid. I used 2 rolls of Mavalus tape (the best tape *ever* for school walls) then started using some cloth-like binding tape from Demco so I wouldn't have to wait to order more.
I hung all 50 feet of the city skyline bulletin board paper, and I was utterly exhausted. The process isn't difficult, but it is monotonous and tedious:
Measure length of wall (or just look at the measurements I wrote down from last year),
Measure paper from roll on a long table, mark several spots with pencil
Draw line connecting measurement marks and cut,
Attach tape "donuts" and climb on chairs to hang,
Adjust to make it straight and/or not wrinkled.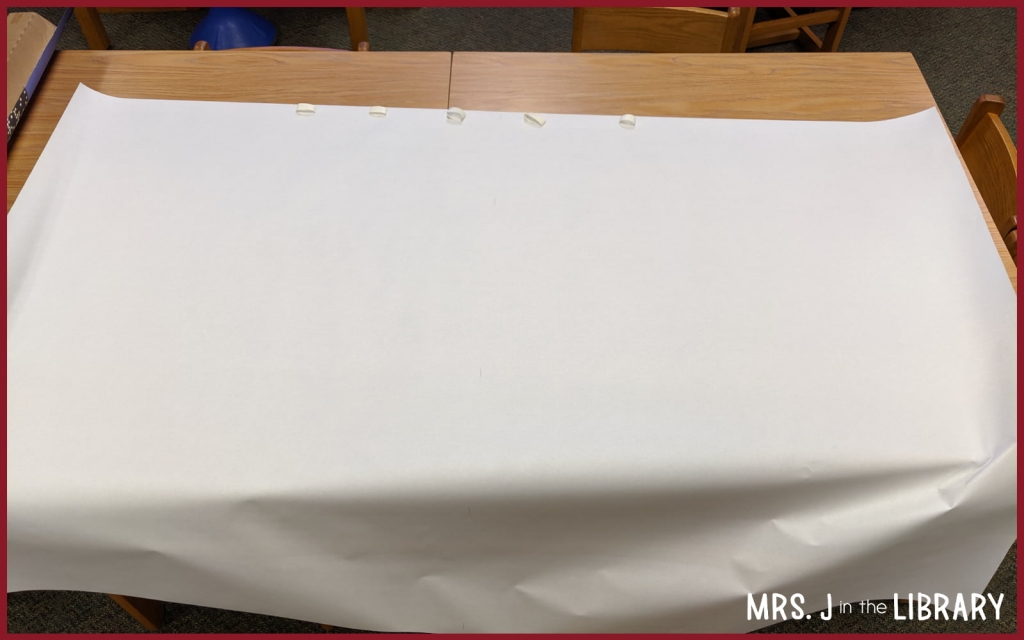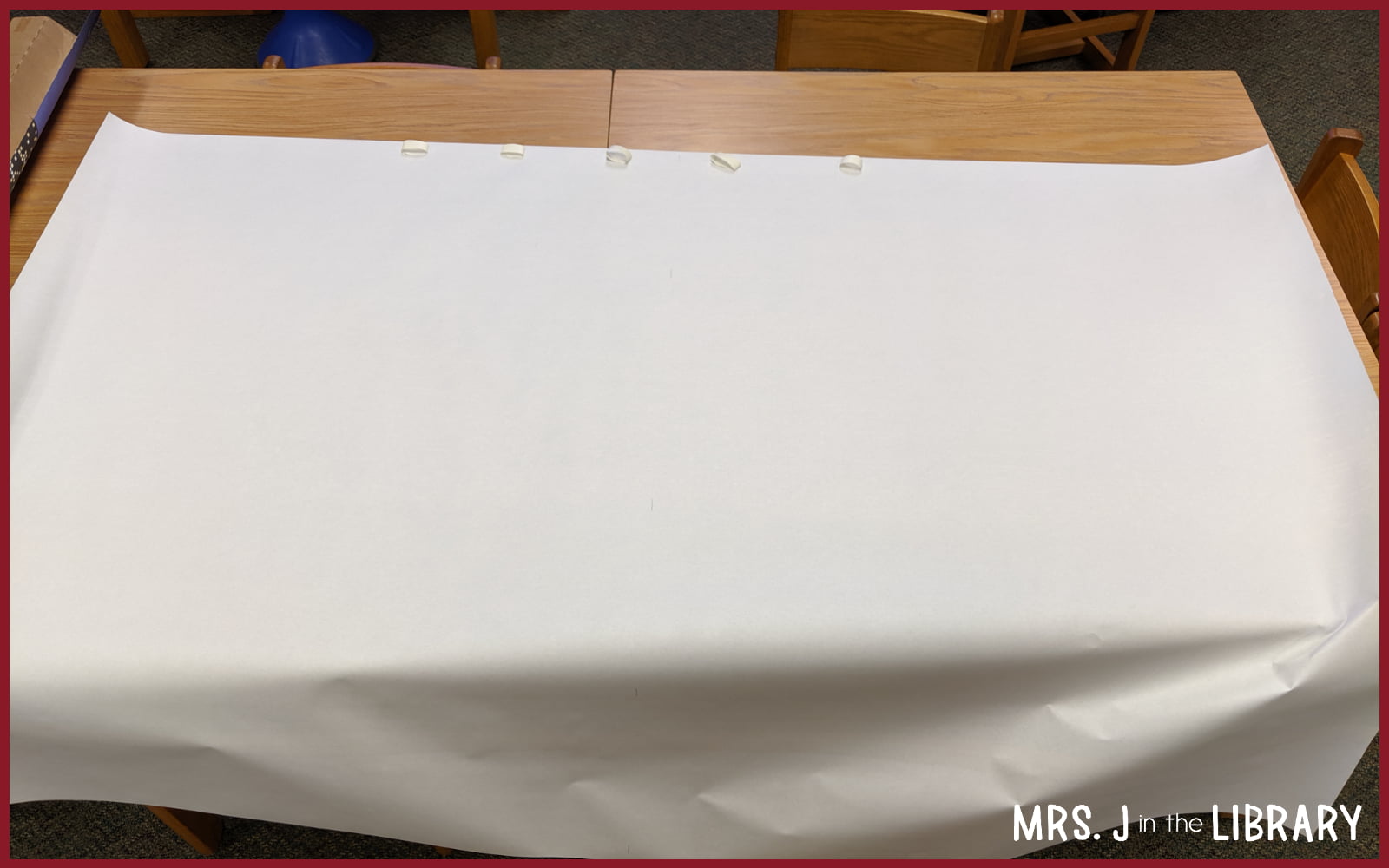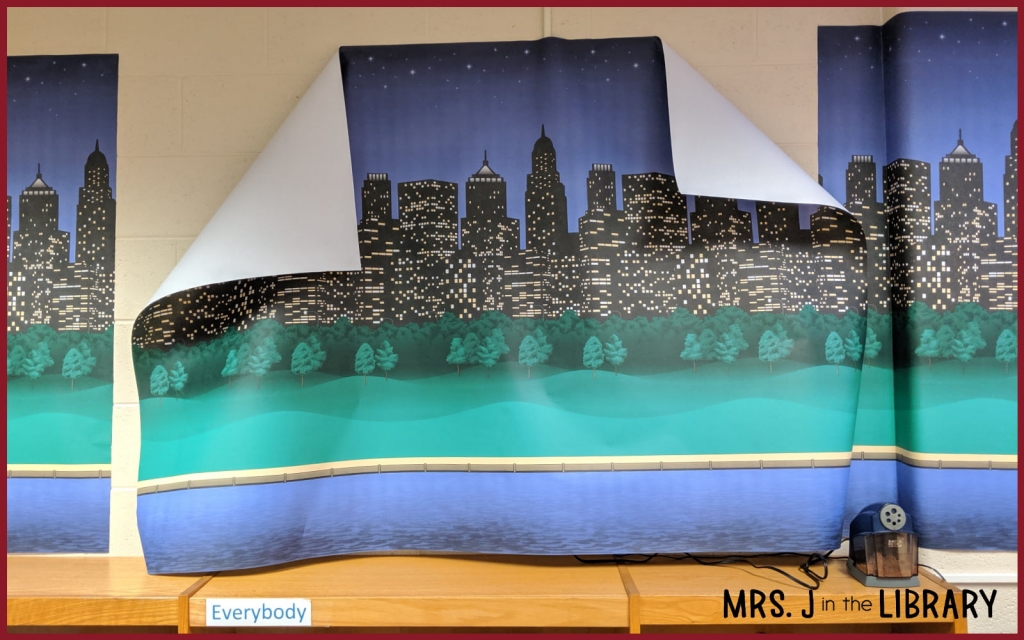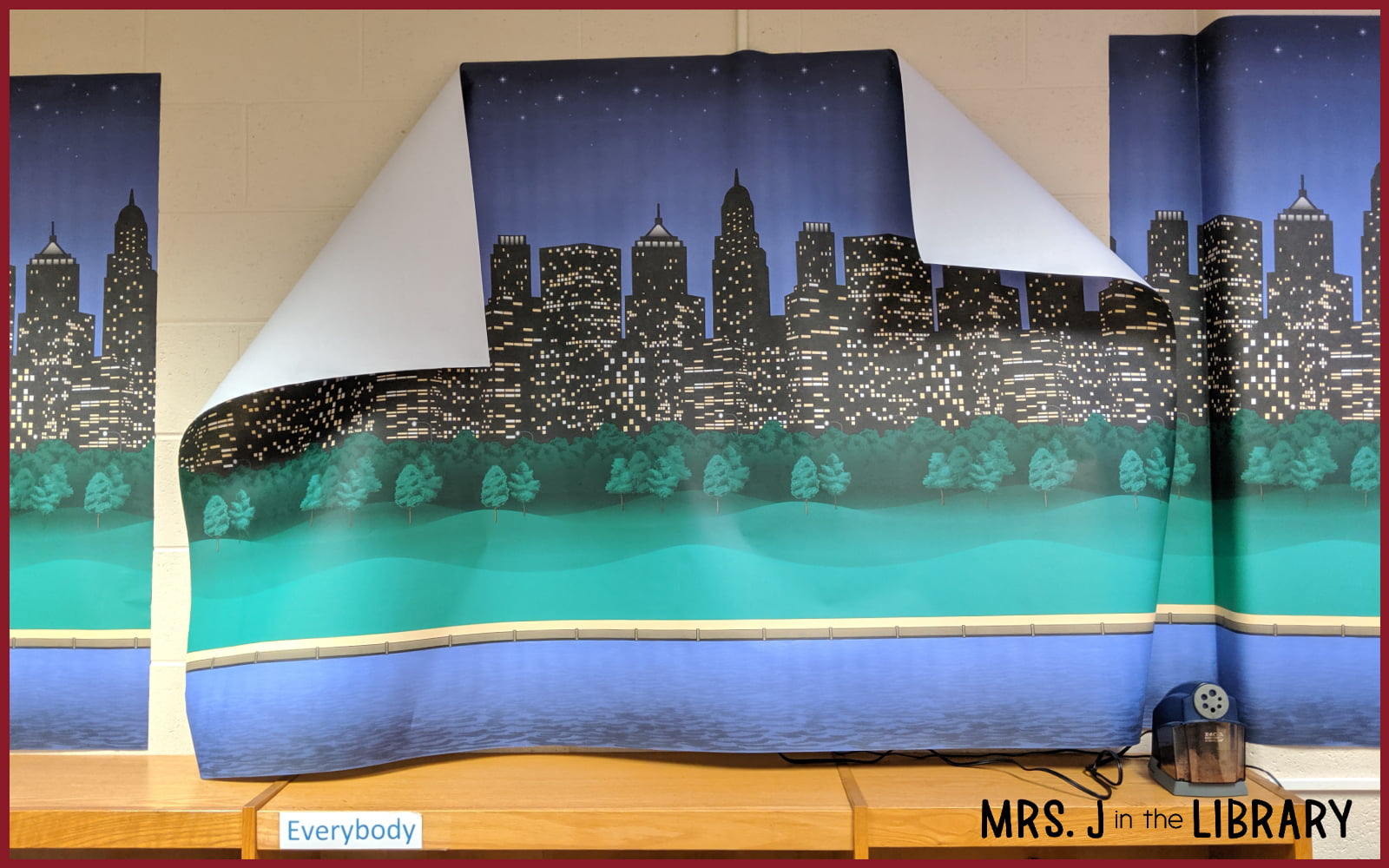 READ MORE: For more about using bulletin board paper for library decorating, see Cheap and Easy Library Decorations.
Hanging paper sections took most of the day, at least 4 of the 5.5 hours I was at school. While I hung the paper sections, I started catching up on podcasts, and listened to Angela Watson's Truth for Teachers, episode 153: Why Teachers are Historically Overworked and Undervalued. Every librarian should listen to this episode, especially in light of School Library Journal's recent articles on self-care.
What struck me most was the section about decorating and the pressure to have a Pinterest-perfect or Instagram-perfect classroom or library. There I was, decorating my library to make it welcoming, inviting, and engaging…all adjectives I was taught to strive towards. But I didn't know about the historical background of why that is so ingrained in me, and how often it disproportionately shows up in evaluations of female educators.
I also didn't realize that despite focusing on efficiency over aesthetics, I still carry a lot of guilt over the fact that I don't have a beautiful library that looks like a magazine. I tell myself that the reason I don't have a bright, shiny library is because of parenthood and a 20-year-old library that was designed for the 1970's and never renovated. But my life circumstances and my school's resources should have nothing to do with it. It's an unrealistic expectation, and one that I need to work on breaking down.
Printing Parent Communication & Lesson Materials
After replacing the toner from yesterday, I continued printing the colorful newsletters that I send home in the student back-to-school packets. Some folks probably wonder why I bother printing these in color, but I see it as an advocacy opportunity.
This is the first connection that parents have with their school library, and I want it to be a positive and noticeable one. All the other papers in the student packet are in black-and-white on white paper, or sometimes on colored paper. I pay the extra money for a set of color toners for my laser printer to make the Library Newsletters stand out and get noticed by parents and students.
Tomorrow I'll start stuffing the newsletters, one by one, into the packets, and I'll go into more detail about that process in the next blog post.
Shelf Displays
So I don't have any fancy displays or much wall space, but I do have LOTS of space on top of shelves. So I unpacked all the wire easels, and started setting them up. Here's what it all looked like by the end of the day –
Scheduling Ideas for You
If I hadn't had childcare or uninterrupted time today, here's what I would have done differently:
Checked my email at home.

This is SO hard because I kept thinking there might be class lists or schedules that I needed in my inbox, but it was really difficult to ignore the non-essential stuff when I needed to focus.

Printed all of the newsletters at home while we ate dinner or something.

I still wish I'd done this, because I spent too much time running out of paper and/or toner when I should have just kept on paper-hanging.

If I didn't have a laser printer at home and at school (that I bought), I would have sent all the printing to the local office supplies store. If you can plan ahead of time and you're lucky enough to have a central printing shop at your district, send it in over the summer as well.
Don't forget to add a comment if you're joining the 5-Day Library Setup Challenge with me! You can post photos on the Mrs. J in the Library Facebook page or tag me @MrsJintheLibrary on Instagram as well.
UP NEXT: Don't miss Days 3, 4, and 5 of the 5-Day Library Set-up Challenge when I'm planning to tackle the Parent Newsletters and K-2 Orientation Lessons.
In case you missed the first day, you can catch up with Day One of the Challenge (which started as just 3 days, but became unrealistic).