I set a goal for myself this back-to-school season to prep and set up my school library in just 3 days. This is my 12th time setting up a library for the first day of school, and the 11th at my current school. I have a process and a long To Do List that I use every year, but I've never tried scheduling it into a specific number of days. And if 3 days doesn't work out, then my back-up goal is 5 days.
Update after Day 4 – It's going to be 5 days…but I guess that's just life. 🙂
If you'd like to try this challenge with me, follow along on Facebook or Instagram, and keep reading!
To be clear, I'm talking about 5 dedicated working days with no distractions, but not necessarily consecutive days. If you have EVERYTHING you needed or could get it all quickly, however, then I suppose it could be 5 back-to-back days. For me, that means scheduling childcare and committing uninterrupted time to being on-site in the library for those 5 days. During that time, I'm trying to stay focused and if possible, stay away from social media and email.
Other points to consider: I have all of my orientation lessons ready; I'm just printing and prepping most of them. Also, some of this work can be done at home, and I'll note which tasks below are great for doing while watching your favorite Netflix show.
Disclaimer: This post contains affiliate links, which means if you purchase an item after clicking the link, I will receive a small commission. See Disclosures & Disclaimers for more information.
Day 1: How It Went (17 days before the first student day)
I started a bit early I think, but I think I'll feel better if it's all done a few days early so I can soak up the last few days of summer. Also, I know that the closer it gets to the first day, the more likely I'll get distracted by teachers who need something from me or want to catch up. While I always try to make time for teachers' needs and want to maintain trustworthy relationships with faculty and staff, this is a time for uninterrupted work.
Hours worked today (unpaid, of course): 5.5 hours
Total hours worked (again, unpaid): 5.5 hours
Goal for Day 1: The library is ready to teach in, even if it looks boring.
Focusing on:
Technology
Furniture
Teaching area & story corner
If time, printing library newsletters for the student packets that are sent home (This didn't happen because I needed toner.)
Technology Checks FIRST!
Since the tech is rarely ready to go at first, and because this year our circulation computers were upgraded/replaced, I started by turning on and logging into all 3 desktops in our library. Two are at the circulation desk, and have scanners attached. Once I could login, I tested:
Is the printer hooked up and working?
Is the projector and/or interactive whiteboard connected and working properly?
Is the operating system and virus protection updated?
Is the desktop screen easy to see and read?

What zoom setting or screen resolution do I need to make the screen visible from a distance for my teaching desktop and the circulation computer?
I made a note of what software and/or drivers were needed on each computer since teachers can't install anything on district machines. Then, I placed a ticket with the tech department for:
Installing Dropbox for syncing all of my files between home and school
Installing Firefox browser, because evidently Chrome has issues with our barcode scanners
Replacing some VERY old external speakers that no longer worked
Getting the projector and interactive whiteboard to connect properly to my teaching computer
I got SUPER lucky that a couple district technicians were making their rounds while I moved furniture, so they took care of all 3 tasks for 2 of the 3 desktop computers. My teaching desktop, however, still needs some work.
Furniture
When I walked into the library, it looked like this: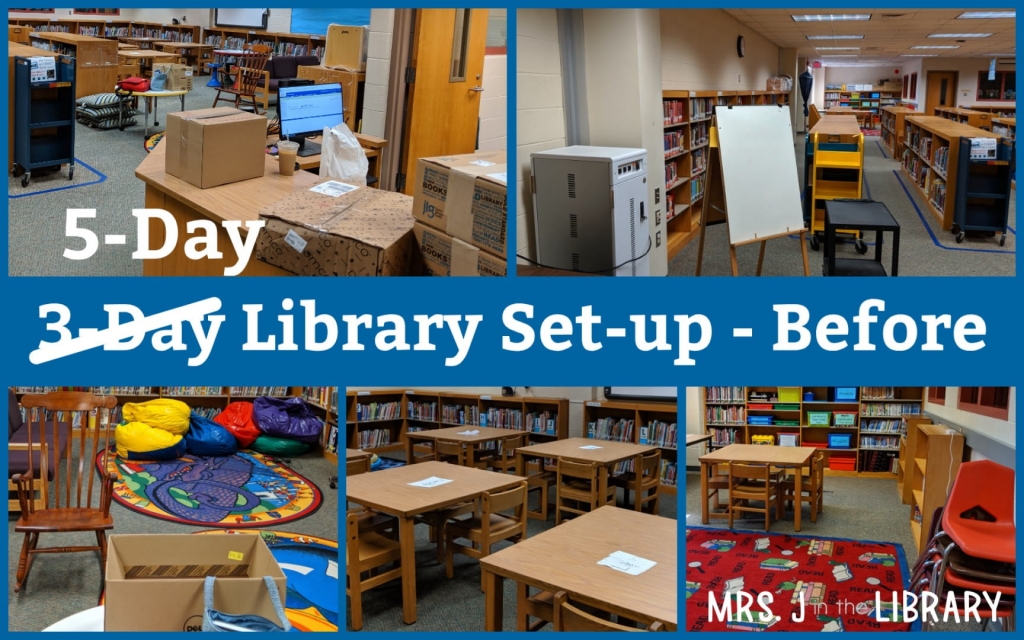 I know it might not look too bad, and it was definitely normal for what I'm used to coming back to, but it wasn't close to where it needed to be. It was a mess of tables, chairs, "stray" AV carts, and random items that were left in the library. That giant (stained) red carpet in the storage area isn't the library's. Also, the circulation desk was covered in boxes of supplies from the district and summer orders.
So I moved all the tables and chairs to where I wanted them, shifted the carpets, and organized the beanbags, floor pillows, and circle cushions for the story corner. I wanted to get the movement paths clear and easy-to-use for the first day, so that I could teach a class the next day if I had to.
If you're doing this process with me, this is an excellent time to really think about your floor plan. You might even want to draw it out on paper quickly, or try The Library Store's Room Planner or FloorPlanner.com.
If it's your first year at this library, walk around from circulation desk to different areas of the library. Make notes of what is in your way, what you are walking around (or running into), and if they can be moved.
If you've been teaching in this library for several years, then think about the space and movement challenges from last year. Try to make at least 1 or 2 small improvements. And remember, you can always change it back!
Teaching Area & Story Corner
Once I adjusted the rocking chair, carpets, beanbags, and floor cushions, and plugged in the Juno Audio system, the story corner's floor space was ready to read in. I did take an extra few moments to test that the microphone worked, of course.
READ MORE: I reviewed the FrontRow Juno Audio system for school libraries a few years ago, and besides needing a new microphone battery this year, it is still going strong!
The rest of my "classroom" teaching area, however, was definitely not ready! The main thing that students would need during almost every library class is the table bins of supplies. These bins also work double-duty to assign a color to each table.
What's in My Library Table Bins (affiliate links below)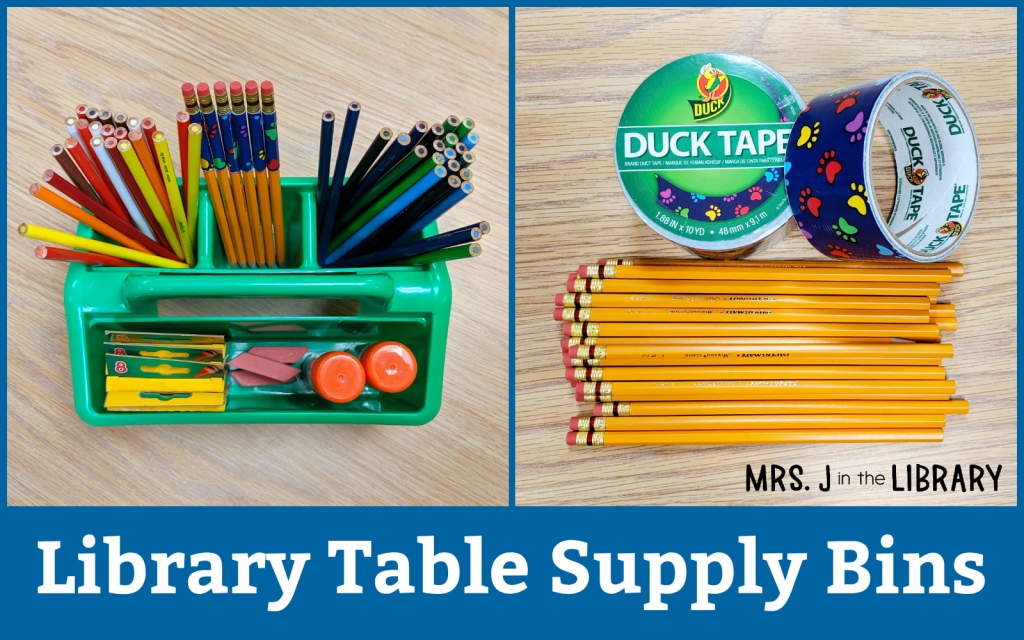 The Library Table Bins are from Really Good Stuff, and while they are a bit pricey for plastic, they hold up a lot better than the dollar-store pencil boxes I used to buy every 2-3 years. Each table bin includes:
A Silly Mistake from Today
When I was looking at the orders that came in, I realized that I never placed a supplies order with Demco or Amazon, so I'm going to need a bunch of things for Day 2. And I can't believe it, but I didn't order any pencils for the new school year…what was I thinking??
So I went home that night and ordered #2 pencils and a 50-foot roll of bulletin board paper from Amazon. I'll need both for Day 2 so I'm taking the weekend off while I wait for those to arrive. This is definitely a case of valuing my time over my budget, because even though it costs more to order this way, I will get everything I need faster.
READ MORE: For more about using bulletin board paper for library decorating, see Cheap and Easy Library Decorations.
Finally, printing
I loved being one of just a few teachers in the building because I had unrestricted access to the copier. So I got some of my printing and copying done, but when I tried to print some of my colorful newsletters, I realized that I was out of yellow toner. So I called it a day, and decided that was enough for Day 1.
Scheduling Ideas for You
If you don't have over 5 hours of childcare or uninterrupted time in your schedule, here are some other options to make Day 1 of Library Set-up work in smaller chunks of time:
Make a list of what you need from your tech department and put the request or ticket after you have the library furniture and space in good shape.
Draw up your space and furniture placement ahead of time.
Bring home the pencils to add duct tape. You can measure, cut, and stick it on the pencils while you watch your favorite show. School-age children could probably help with this too.
If you don't mind paying for printing and copying, have your local office supplies store do it for you. Again, you're trading the extra expense for more time, so it might be worth it for you.
Whew! It was a LONG day, but I definitely felt great once it was done.
If you'd like to do this challenge with me, add a comment or link to photos below. Happy back to school everyone!
UP NEXT: Don't miss Day 2 and Days 3, 4, and 5 of the 5-Day Library Set-up Challenge!