It's Freebie Friday! I wrote last month about using book tastings to promote books in the upper grades, and for the younger grades, I introduce the Pennsylvania Young Reader's Choice voting contest. I read a selection of books from an annually updated list, and then students get to vote for their favorite one. There are 4 lists of nominations, divided by grade level: Kindergarten to 3rd grade, 3rd to 6th grade, 6th to 8th grade, and Young Adult.
Each year, I read aloud the books on the K-3 list to the students in kindergarten, 1st grade, and 2nd grade. Though I don't have time to read every book on the list to every grade level, I do read more than half of them so that every student is eligible to vote. After listening to the book, students check out books, and with any extra time, they have a reading response activity to do in their booklet. They also record the number of stars (out of 5) they want to give a book. Click on the image to get the FREE PA Young Readers' Choice Printable Booklet or the Digital Activities with the K-2 lesson plan!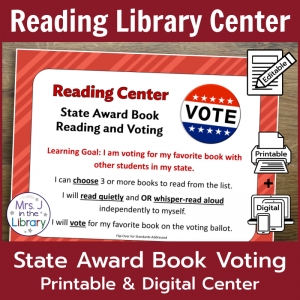 For older elementary students, I promote the voting contest with the State Award Book Voting Library Center and giving students time to explore the different books on their grade level's list. Students only need to read 3 or more books from the list to vote for their favorite book.
Even though both of these products are made with Pennsylvania in mind, they are completely editable so you can change them for your state's voting contest.
What strategies or promotion ideas do you use for your state's student book voting each year?