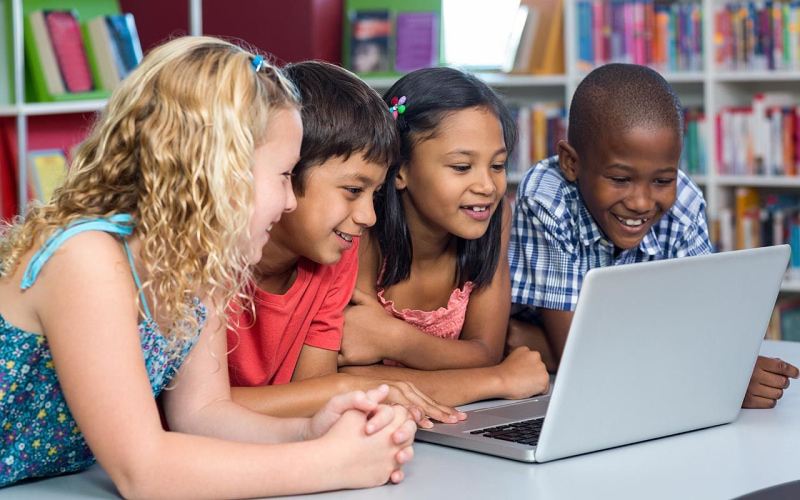 Teaching Resources for School Librarians
As a teacher-librarian or school library media specialist, you know how time-consuming it is to plan and teach your library lessons. You might need to:
Brainstorm new lesson ideas each week, for every grade level you teach;
Create the lesson materials needed, and
Write and turn in thorough lesson plans that are aligned to standards with assessments and learning targets (or objectives).
Instead of spending hours on your evenings and weekends designing engaging lessons, you can use the curriculum materials I've developed and refined over the past 15 years of teaching elementary library classes.
Every lesson, read-aloud unit, library center, and activity listed here is editable, and includes a comprehensive lesson plan with AASL National School Library Standards for Learners and National Common Core Standards.
These are the same lessons and curriculum I use to teach in my own elementary school, so you know they are librarian-tested to be engaging and effective.
Library Lesson Topics
Research and Library Skills Lessons
No library curriculum is complete without research instruction. It's at the core of what a teacher-librarian does and how she or he supports student learning. These lessons teach students in kindergarten through 5th grade how to use the library resources to find, use, and evaluate the information they need to answer a question or solve a problem.
Reading Appreciation and Book Care
Inspiring students to read for learning or for pleasure is an essential function of any library program. It doesn't matter if the books are in print or digital form either. Everyone can find something to love in these read-aloud lessons designed with primary elementary students in mind.
Printable Read-aloud Units for Kindergarten, 1st, and 2nd grade classes
Digital Read-aloud Lessons for kindergarten, 1st, and 2nd grade classes
Library Centers
The library centers model (pioneered by the amazing Cari White of Library Learners), has been completely transformative in how I teach students in 3rd, 4th, and 5th grade for several years now. I even use it with 2nd grade classes near the end of the year if we finish our other units early. While I've made my own modifications, this way of teaching is both pedagogically sound and sustainable for your personal and professional life.
READ MORE: Check out all of my blog posts about library centers.
Research Centers
Students practice their research skills after a mini lesson or direct instruction.
Reading Centers
Students read independently or vote in their state book awards contest.
Makerspace Centers and Materials
Students create, design, build, and make at these centers. (And yes, these centers do get loud.)
READ MORE: How to fit makerspace centers into 40-minute library classes (including book exchange).
For the beginning of the year and back-to-school
The first few weeks of school are when you establish the library routines during class, teach or review books care, and remind students where to find everything in the library's space.
Library Orientation Read-aloud Units for Kindergarten, 1st, and 2nd Grade Classes
Orientation Life-Size Board Games for 3rd, 4th, and 5th Grade Classes
Get students moving and active on their first day of library while taking a tour of the library and reviewing library procedures & rules. Plus, you may want review how to use your library's online catalog to find materials too.