Schools and communities are getting more concerned about the spread of COVID-19, or coronavirus. As of this moment, my school district is closing for 2 weeks and plans are being made for online / virtual / remote / distance learning, or whatever we're calling it.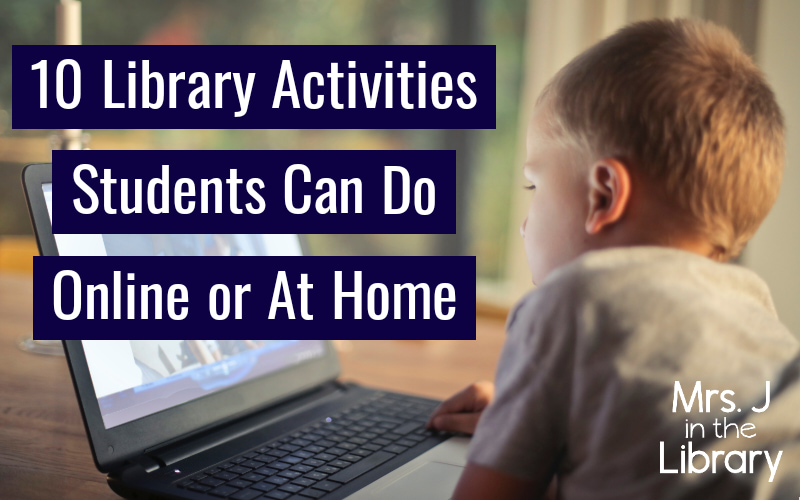 The students in our district have 1-to-1 devices with Chromebooks, so we are a GSuite for Education district, and most of my suggestions below can be easily implemented with Google Classroom. I've been using Google Classroom for a few years now with 4th and 5th grade classes to manage their library center work. So I have experience teaching with part online, part face-to-face learning.
I won't rehash the many excellent Google Classroom resources available, but if you need a crash course in the basics, I recommend Shake Up Learning's blog posts on Google Classroom.
But even if you haven't use Google Classroom, Schoology, Canvas, Moodle, or any other online learning platform, you can still do most of these activities for an online library class. For elementary library classes, specifically, here are 10 learning activities that students can do online or at home.
UPDATE: Check out my follow-up post on Teaching Strategies for Library Class in Any Format (Remote, In-Person, or Hybrid).
10 Library Activities for an Online Elementary Class
Reading
If at all possible, publish a schedule of when you'll be reading ahead of time so that students and parents can plan to join throughout the day.
For those worried about copyright, because it's live and should only be accessible through your school's online management tools (e.g. Google Classroom, Canvas, or Schoology), it should fall under fair use and/or educational use.
Create a screencast of how to login to your ebook platform, and where students can find their password.
Screencast-O-Matic is my go-to tool for easily making how-to videos of my screen.
Show off any extra features that students might have forgotten, like adding notes, highlighting, and bookmarks.
Check with your ebook platform vendor to see if they have instructional videos you can use. We are using MackinVIA, and their resources page is linked here.
Make a screencast of how to login to Destiny so students can write reviews. Also, you may want to give students a checklist of what a good review includes, so you don't get 50 of them that all say "it was good" or "i liked it".
Destiny has to be configured to do this, and your tech department may need to tweak some settings to allow students to login or write reviews.
If you set reviews to "need approval" before being published, you can print or save a PDF of them with student names before you approve them to go live in Destiny.
READ MORE: Get a FREE sample checklist for writing reviews in Destiny or other library circulation software, and read how I use it to encourage peer feedback at my Book Review Writing library center.
Research & Inquiry
Even if you don't assign a question to answer, you can promote your library's databases by saying, "If you'd like to learn more about (book topic or connecting idea), check out (database name) on our library website.
Again, make a screencast of a "featured" database for each day, and highlight the best features or most interesting articles.
Students can report back their favorite fact they discovered, or answer a research question you assign.
You probably know that some parts of your website aren't known or visited much. Create a scavenger hunt for an "Easter egg" on your website.
An "Easter egg" could be an image or GIF that you place on the library website and change its location each day. A picture or drawing of your school's mascot might be a good place to start.
An activity like this might need a prize or a random winner announced or some external reward to participate. Even if long-term school closures become a reality, you can always mail out a bookmark very affordably. (I'm partial to scratch-and-sniff ones as prizes).
Digital Citizenship
Makerspace / STEAM
Items to start with: plastic straws, rubber bands, paper clips, string or dental floss, plastic utensils or chopsticks, cardboard tubes, scrap paper or post-it notes, etc.
Tools students might need supervision with: needle-nose pliers to bend paperclip wires, scissors for younger students.
This activity should be optional or one of several choices as we can't assume parents will give permission, or indeed will be there when the assignment is being done.
A fort with blankets, pillows, or bed sheets.
A tower with blocks or boxes
Other Activities
More…
READ MORE: Check out my follow-up post on Teaching Strategies for Library Class in Any Format (Remote, In-Person, or Hybrid).
Additionally, School Library Journal has also published an online learning resource list for librarians including many of the education companies who are offering some or all of their services for free.
Finally, if you aren't part of the Learning Librarians Facebook group, you should join! There are MANY excellent teacher-librarians there who are sharing and building lists like this one of activities to use when teaching remotely.
I hope my suggestions get your own creative juices flowing so that we can share our activities and begin this online learning adventure with confidence. Take care and stay healthy!